Nissan recently showcased the NV-200 at the 2012 Delhi Auto Expo and named it Evalia for the Indian market. But in Detroit, Nissan has showcased and all electric Nissan e-NV-200 that heads for production by 2014. The production model is expected to have a few tweaks, but the basic technology and shape will be unchanged.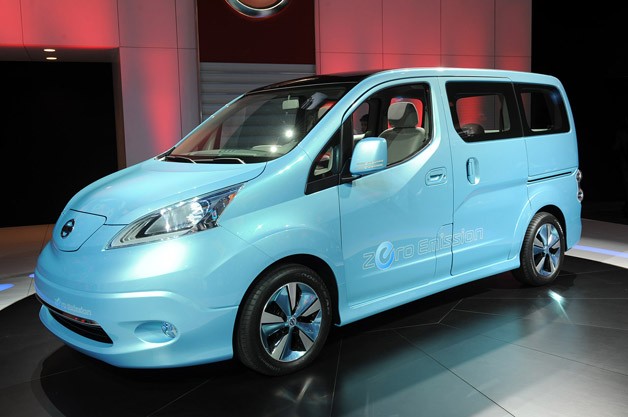 The e-NV-200 has a grafted Nissan Leaf's front fascia. In addition to sweeping headlamps and LED accents, the hood features a blue-accent badge that pops open to reveal a charging port. The e-NV200 features a pair of large glass roof panels, which gives the interior a more airy feel, as well as advanced telematics and a digital instrument display that appears to be inspired by an iPad.
The e-NV200 shares its electric drive system — an 80kW motor and lithium-ion battery pack — with the Nissan Leaf. It's expected to provide around the same 160km range as the LEAF. Nissan states that this van would be suitable for both commercial and passenger use in large metropolitan areas.
[Source: AutoBlog.com]