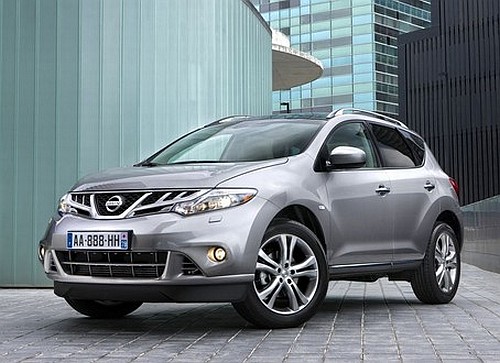 The Nissan Murano Crossover SUV which was internationally launched in 2008 came only with a 3.5 liter V6 petrol, but now the sporty looking crossover SUV gets a new diesel engine for Europe.
The Nissan Murano luxury crossover gets a new 2.5 liter 4-cylinder common rail diesel engine developing 187 hp and 450 Nm of torque.
In addition to the diesel engine the new Nissan Murano luxury crossover gets a number of styling changes, the most prominent one being the new sporty looking grille, air dams and bi-xenon headlamps. The Murano also get cruise control and electrically folding rear seats standard and a high end Bose sound system that comes with 11 speakers.
If Nissan India plans to bring in the CKD route and assembles it at its Chennai plant, the car could be priced between 23 - 25 lakh Rupees which would put it in the BMW X1, Honda CR-V territory and considering the imposing presence of the Murano and its critically acclaimed diesel engine, we feel the Murano would be a very competent offering in that category.
There are high chances of Nissan bringing the Murano by mid-2011 via the CKD route. But what remains to be seen is whether Indian car buyers would choose the Murano over the BMW X1. While the Murano is better than the Bimmer in every way, what would be working against the Murano is the Nissan badge which cannot stand up to the Propeller's stellar reputation in India.
Nissan Murano gallery -
Source: Motorward