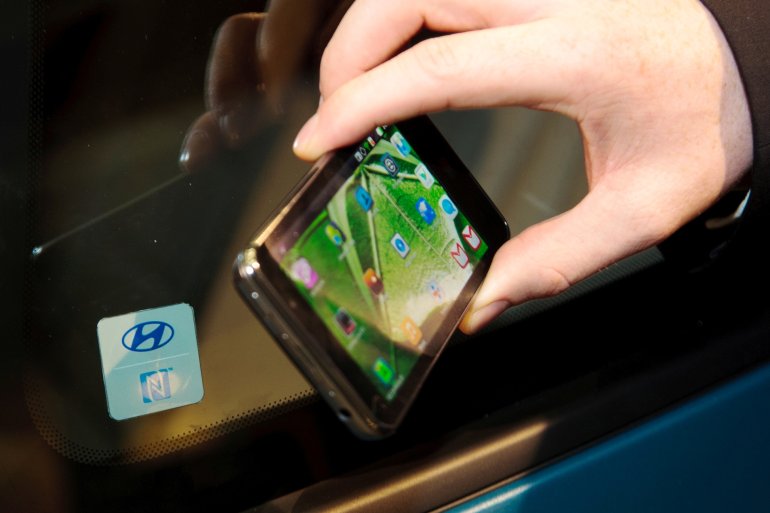 Just days back Hyundai demonstrated its tech prowess with smartphone based connectivity concept for cars.
The idea is that most people in the world have a smartphone at their disposal. So why not link most of the functions of the car with your smartphone?
There are already some manufacturers who provide basic functions such as Bluetooth connectivity and certain apps integrated in the car. But Hyundai wants to go the extra mile.
Using the smartphones NFC (Near Field Communication) technology, Hyundai wants to replace the functionality of your keyfob. Just swipe your smartphone on the car and it will unlock itself. You can even start your car using your smartphone by pairing with the on-board touch screen. Once the mobile phone is paired, you can sync all contacts and apps along with navigation destinations and streaming audio.
Just yesterday, Google announced that Hyundai and Kia will integrate Google Maps and Places into its telematics systems. Hyundai's Blue Link technology and Kia's UVO eServices will soon give drivers access to Google Maps and Google Places.
In addition to driving directions, the integration will also provide point-of-interest and local search functions to drivers on-the-go. You can speak out loud and the car's voice-recognition features will detect your command and respond accordingly.
Hyundai says that because these features are based on current technologies they could be available as early as 2014.
Will the next generation i20 come with these exciting features and functions?
[Source: Techcrunch.com & Wired.com]