On the official fan page of the Maruti Suzuki Swift, new information has been made available. The following are some of the messages published on the page wall in the last few days -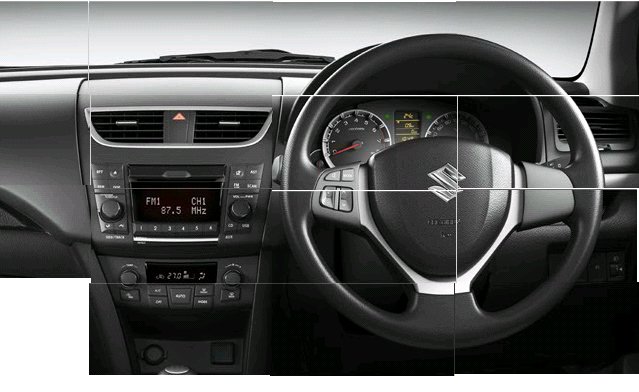 1) A longer and wider body, to give you the most comfortable ride. Only in the new Maruti Suzuki Swift
2) Diesel engine revamped! Introducing the top end Zdi variant only in the Maruti Suzuki Swift!
3) Power just got a new meaning. New VVT engine and better power output for improved performance
4) Premium Interiors with new dashboard design, best in class fit -finish and high-end integrated stereo
Die hard Maruti Swift fan Francis S Pulickal spent two hours putting together the teaser site's jigsaw puzzle that reveals the new Swift's dashboard layout. Compare it to the European version and you won't spot any visible differences. The new Swift will debut on the 17th of next month with current engines (1.2 K Series with variable valve timing/ 1.3-liter Multi-jet diesel branded DDiS).
The new Swift is based on a fresh platform providing a bit more cabin space. The interiors have been completely redone. The car is also said to be more fuel efficient compared to the current Swift but automatic transmission might not be offered in the near term. Following the Swift, the Dzire will also be revamped.
The Swift, as we wrote in an earlier post is almost a byword for hatchback in India. It outsells many new generation models like the Volkswagen Polo, Nissan Micra, Hyundai i20 and the Tata Indica Vista. The Indica's sales, despite being offered with the same engine with more space and features consistently fell.
Nissan and Volkswagen don't have the brand equity or the sales network to catch up with the Swift. Volkswagen has a better chance compared to Nissan to inch closer to the Swift, but that will take many years even with a fantastic product like the Polo.