Maruti-Suzuki launched the new Maruti Alto K10 today, which gets updated exterior and interior, and not to mention, the convenience of the automated manual transmission (AMT).
Here's how the Alto K10 stacks up with the Hyundai Eon 1.0L and the Datsun Go.
All cars are powered by three-cylinder engines, but the Datsun Go has the largest displacement at 1,200 cc. However, the Go's power and torque outputs are not substantially higher than its 1.0-liter rivals. In fact, its the Eon which makes the most amount of power at 69 PS. The Go makes the highest torque at 104 Nm, and the Alto K10 makes the least at 90 Nm.
In terms of power-to-weight ratio, the Alto K10 scores highest at 90.06 PS/tonne, the Go at 88.42 PS/tonne and finally the Eon at 86.25 PS/tonne.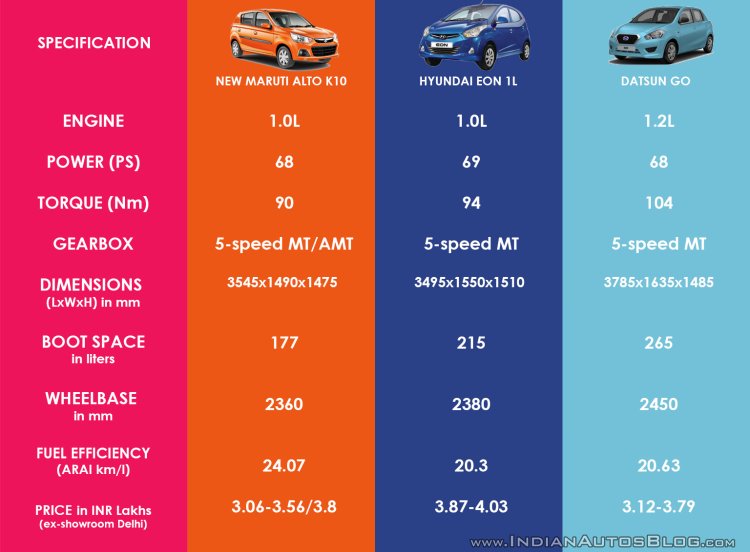 All cars come with a 5-speed manual transmission, but the K10 will be the first in its segment to offer an AMT. Irrespective of the transmission, the K10 delivers a segment best 24.07 km/l, while the Eon and Go's mileage hovers around in the 20 kmpl mark.
Coming to dimensions, the Go is the longest and widest here at 3,785 mm and 1,635 mm respectively. Hence, it has the longest wheelbase at 2,450 mm, and the largest boot at 265 liters. The K10 has the smallest boot and the lowest wheelbase of the lot.
Coming to price, the K10 has the least starting price thanks to its LX variant which doesn't get power steering. Even so, the top-end VXi (O) trim of the K10 is a good INR 47,000 cheaper than the Eon and INR 23,000 cheaper than the Go. In fact, for the price of the top-end Go, you could also get the K10 with an automated manual transmission.