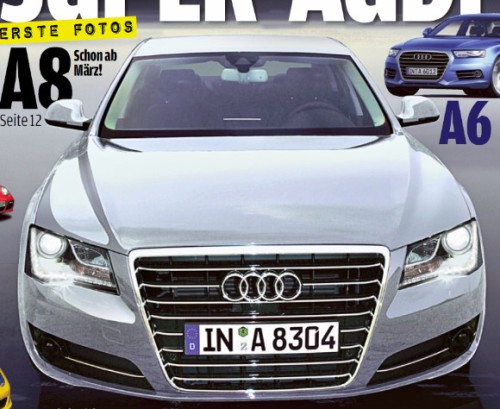 The upcoming Audi A8 luxury sedan uses an extended A4 platform
The new Audi A8 will be launched on November 30 in Miami in the Audi Pavilion, a temporary museum. This gives rise to speculations of a possible appearance during the Auto Expo in India next year.
The 2010 Audi A8 has sold a fraction of a 7 Series or a S-Class in  India. Audi's strong performers are the A6, Q7 and Q5. If Audi is to be taken seriously in the full-size car segment, the radically different A8 needs to land here.
The future A8 is believed to adopt similar engines but most units will probably undergo an upgrade to become more environmentally friendly. A 2.8-liter petrol V6 and a 4.2-liter V8 FSI will be available for the petrol lover, while a 6.0-liter V12 TDI is for the cetane seeker.
Overall, the car is stationed on an extended platform of A4 using lightweight materials to cut fuel consumption and improve engine performance. Aluminum and magnesium are two of the materials likely to be used generously on the future A8.
More details are expected on the 30th of this month.
Image Credit - AutoBild