The performance motorcycle section of Indian automobiles has been one of the most booming segments in India. We have seen bikes from Yamaha RD 350 and Yamaha RX100 to bikes like the HH Karizma and Yamaha R15. Although day by day we are improving in the field of technology and so many bikes are being improved and launched by different manufacturers each year there is still one category of motorcycles which I feel is being neglected and not being explored.
I mean there are still not many options available when it comes to the cruiser bikes in India.
Except the products from Royal Enfield and the Avenger from Bajaj, there are no other cruiser bikes available in the market. A few years back, Yamaha tried to play with its Enticer which somehow made a mark and boosted up its volumes. It also proved tough competition to the Kawasaki-Bajaj Eliminator, but this motorcycle didn't last long and I'm not sure why the Enticer was not worked upon further and upgraded models were never to be.
Apart from the Enticer from Yamaha, Kinetic in collaboration with Hyosung Motors launched Kinetic Aquila a few years back, featuring a 250cc, V-twin, liquid cooled engine, 26 bhp of power at 9000 RPM, and a top speed of 130 kmph. This bike was priced at 1.75 lakhs on road and I think this was not only heavily priced, but the root cause of its failure.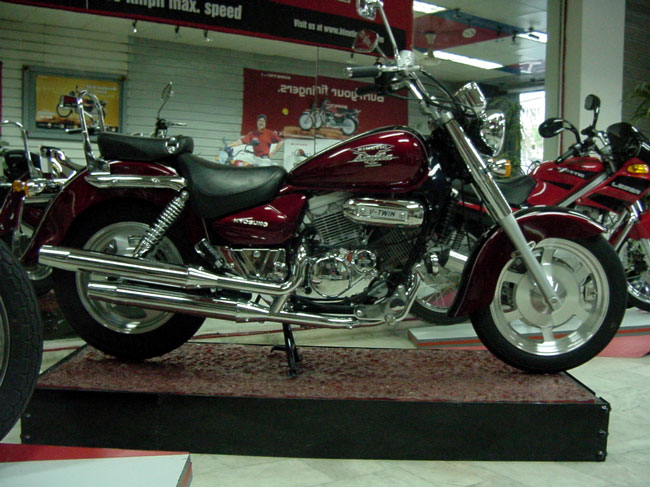 I think there is a huge scope for cruiser bikes in India and there are many people who, if provided a good option, will not hesitate in spending money on them. Yamaha have launched bikes like YZF- R15, FZ  series in India based on the themes of their powerful super bikes R1 and Fazer 1000. Why then can't they launch a cruiser bike for the Indian market in a similar fashion which could be a mini version of their Midnight Star or Drag Star series?
Apart from Yamaha and Bajaj, there hasn't been a single cruiser bike from big motorcycle manufacturers like Hero Honda and TVS till now.
For me, a cruiser bike should be at least a 200 to 250cc with a higher bhp rating and the exhaust sound, which sets these machines apart, should give a similar effect as an ideal cruiser bike would give.
Motorcycle manufacturers in India should think over it and come up with cruiser bikes suitable for Indian conditions. Biking culture in India is improving day by day and people are more literate about them these days than ever before. Therefore there should be more options available for the Indian customers in the cruiser bike category.