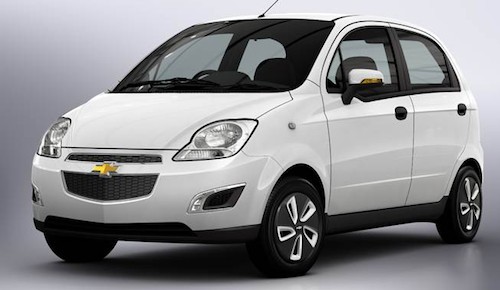 General Motors India is coming strong & confident in the Indian market. India's 1st 4 door electric car the E-Spark will roll out from the company's plant at the end of this year. It does not stop there. GM India would be introducing electric vehicles based on the lines of the upcoming Chevrolet E-spark.
GMI tied up with Bangalore based electric car company REVA last year & made it clear that they are exploring the possibility of incorporating electric drivetrain technologies in several Chevrolet models. Karl Slym (President & MD GMI) said the success of electric cars both in India and globally would depend on its affordability and its eventual utility for the end consumer.
The company will gauge the success of the e-spark in India after which it would bring in more electric products. Slym said that the idea behind e-Spark was to see the viability of replicating the same model on its other cars as well. The aim is too see if such products find market acceptance.
Karl Slym in a press statement said that they would want to fully support the customer who buys such a product & plans are in place in terms of supporting consumers for setting up charging points within their own premises.
The company is also in talks with the Government on incentives such as making charging points for EV's in parking lots, free parking for EV's & having pay & charge stations. Some state governments have recognized this fact & thus the e-spark will initially be launched in Delhi-NCR & Karnataka only.
In a bid to promote electric cars the Delhi government has given subsidy of 15% on the price of the vehicle, VAT exemption of 12.5% and exemption of road tax and registration expenses. The Chandigarh government too has given a subsidy of 15% on the cost of the vehicle to all its users.
Autocar India also reports that GMI has already started to develop the electric version of the Beat which is expected to touch speeds of 120 kmph. We expect the GM-Reva partnership to roll out quite a few electric products in the next few years as GMI is very serious about this technology. Not to forget GM also has its Voltec technology to develop electric cars.