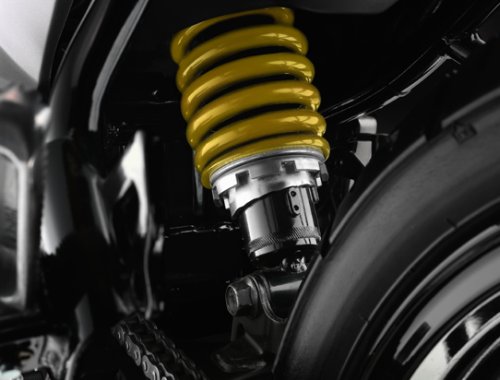 Monocross suspension provides more travel and hence better ride quality
A motorcycle's suspension system has gone through many changes over time. There were stages when motorcycles had no rear suspension and could only rely on the damping of the tire and possibly the coils in the saddle to provide the cushioning effect. As technology progressed, the importance of motorcycle suspension was realized and the manufacturers started working on improving it.
The motorcycle suspension has gone through changes equal to any other important part of a bike.
When you talk about the features and technology of a bike, the suspension type plays a major part in determining the bike's performance. These days monocross suspension is much talked about, so I thought why not I check the advantages of this type of suspension and share it with you.
The biggest advantage with Monocross suspension is that it can be positioned close to the center of gravity of the bike thereby improving the concentration of mass. Not only it provides optimum rigidity but also improves the balance of the bike.
Monocross suspension provides plenty of rear wheel travel which makes the ride even more comfortable. Another major advantage of monocross suspension is that improves the handling of the bike. By enabling a better concentration of mass, this suspension helps achieve good handling characteristics and you will get better cornering performance.
To summarize, these are the basic advantages of Monocross suspension:
Provides much improved handling of the bike naturally.
Cornering performance improvement.
Comfortable ride due to the more rear wheel travel
The usage of just one shock reduces overall weight thereby enhancing the bike's fuel economy and pickup.
These days in India, bikes from Yamaha incorporate Mono-cross suspension (Yamaha YZF-R15 and FZ series). The first bike to have this type of suspension was the Honda Unicorn in India. I think it would be a good move if other Indian bike manufacturers like Bajaj and TVS use this technology in their bikes as well, since the merits are very attractive.