Our friends and fellow motorcycle enthusiasts at Eimor Customs have created another appealing motorcycle that uses the Royal Enfield Classic 500 as the base vehicle, retro-styling sprinkled all over it. Awestruck by a modified Royal Enfield from Bombay Custom Works, called Jugaad, the owner of the Classic 500 wanted a simple and elegant upgrade for his motorcycle.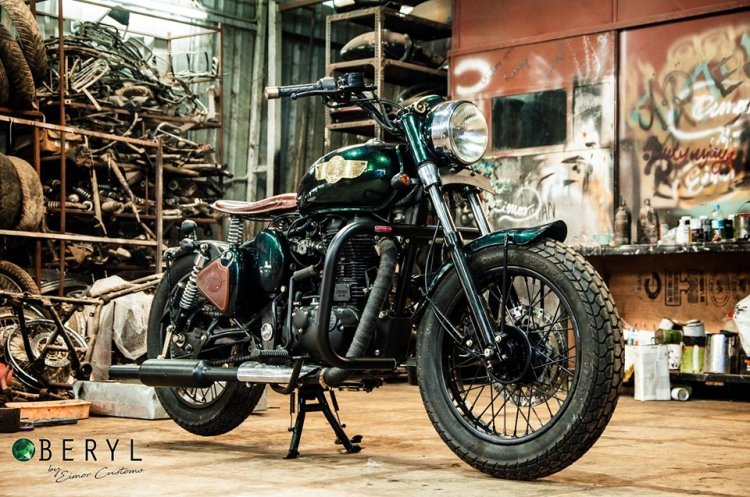 Also Read: Custom Royal Enfield Interceptor INT 650 called Gallinella will take you back in time
The folks at Eimor Customs wrote:
Our client came to us with a very clear vision. He wanted this work to be simple, minimal and elegant. The picture reference that was given to us by our client was a beautiful creation by our friends and colleagues at "Bombay Custom Works" called "Jugaad". Now 'Jugaad' is already a masterpiece in itself. We have not tried to recreate any magic. It is a humble interpretation of the beautiful work by Bombay Custom Works.
Christened as the Beryl, a mineral composed of beryllium aluminium cyclosilicate, the modified Royal Enfield Classic 500 features a unit paint job along with a new brass badge on the fuel tank and a black theme for most of the parts. The tank cap and the bar end weights get laser engraving. The front fascia retains the stock headlight, along with its chrome surround for the retro-styling. However, the modification brings a pair of aftermarket blinkers to the package that adds a modern touch to the motorcycle.
The pilot lamps, instrument console surrounds and bar-end weights, too, get a brass finish to add a contrast to the visuals. The paint on the tank gets an emerald style visuals (green Xirallic with an ultra-glossy finish), and a similar shade is also seen on the side panels. The custom saddle gets a genuine leather cover for a retro look. Similar material is used in the form of a patch on the side panel too. The back of the motorcycle features a custom fender that is shorter than the stock unit. The aftermarket taillight and blinkers finish the revised rear section of the Classic 500.
The black paint on the wheels, engine and the exhaust system add a pinch of stealthy look to the overall package and bring contrast to the visuals. The changes are limited to the custom paint and the fenders, while the engine and hardware specifications have remained unaltered. Thus, the Classic 500 retains telescopic front forks and twin-sided springs to perform the shock absorption tasks. The braking department comprises a disc brake at the front and a drum unit at the back.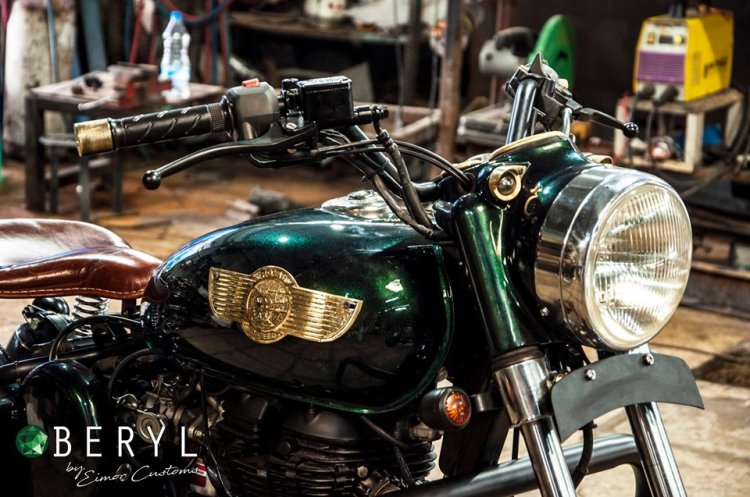 Also Read: New Royal Enfield Bullet 350 and Bullet 350 ES launched in India
The Beryl is indeed an appealing motorcycle that enhances the retro-styling of the Classic 500. The paint job, leather seat covers and custom fenders give it an appealing persona that will turn heads wherever it goes.
[Source: Facebook.com]