Royal Enfield modification experts Bulleteer Customs are back with another unique mod-job. Their latest creation is called Dharma, and it is a definite head-turner.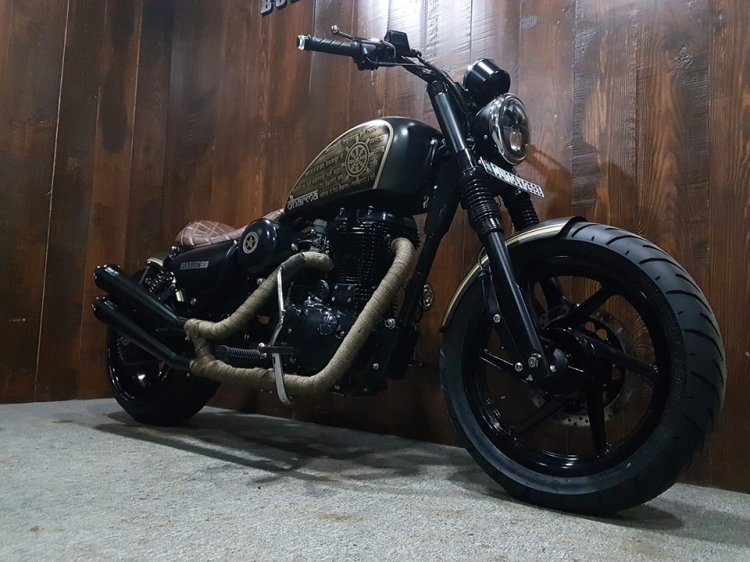 Also Read: BS-VI 2020 Royal Enfield Thunderbird 500X- IAB Rendering
The motorcycle drops the stock styling for Sportster-inspired visuals. The modified bike features a complete overhaul with custom fenders and body panels for a unique look. The front fascia retains a round headlight design for a retro look, while the projector setup gives it a modern touch. The handlebar-mounted front blinkers give the front fascia a clean, minimalistic look. The flat, single-piece handlebar performs the steering duties, while the rider related information is available on a single-pod console.
The front and rear fenders get a matte black finish along with golden coloured, hand-painted stripes. A custom fuel tank and the side panels, too, get a matte black paint. Hand-painted graphics, the Dharma tag and other text on the fuel tank enhance the styling of the motorcycle. The matte gold finish adds a neat contrast to the looks and makes the modified Royal Enfield more visually appealing. The twin-pod exhaust pipes add a pinch of sportiness to the bike.
The modified sub-frame gives the Dharma a compact look. The motorcycle features a rider-only setup, and the pillion footrest has been eliminated in the modification process. The diamond stitch pattern on the compact saddle adds a premium look to the Royal Enfield. The compact taillight sits behind the custom saddle. The number plate at the back occupies the space on the left side of the vehicle, next to the suspension.
Changes to the hardware include the addition of alloy wheels. The black-coloured wheels add to the stealthy styling of the motorcycle. The bigger profile front and rear tyres give the Dharma a big bike look. Other specifications remain in stock form, and the Dharma continues to use conventional front forks and twin-sided rear springs to perform the shock absorption tasks. The fork gaiters hide the chrome part of the front suspension. Braking department uses disc brakes on both wheels.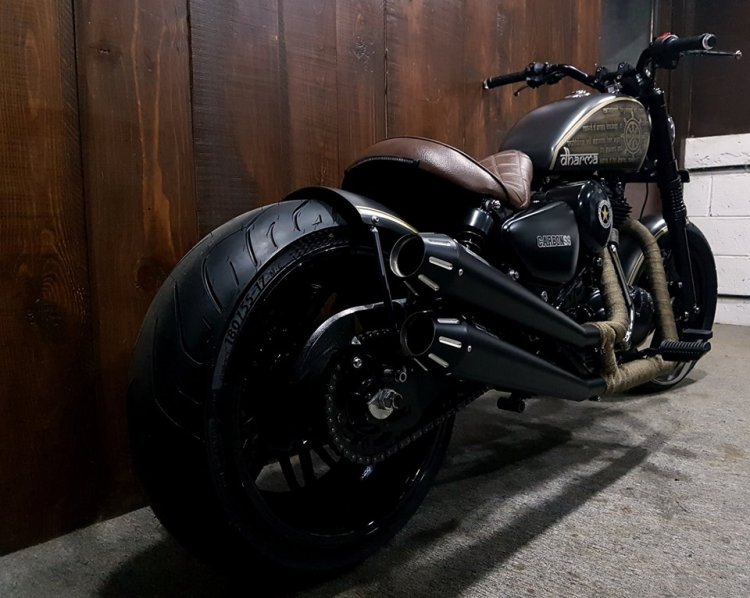 Also Read: Modified Royal Enfield from Bulleteer Customs hits the right notes
The modified Royal Enfield is a neat combination of style and subtlety. The comprehensive upgrade to the visuals is an absolute treat to the eyes, and the folks at Bulleteer Customs deserve a round of applause for their work.
[Source: Facebook.com]