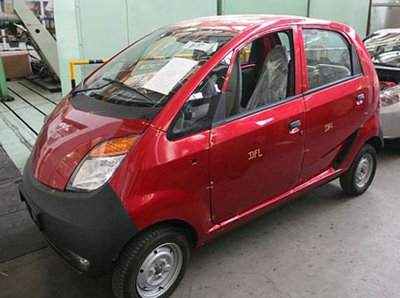 Tata recently said that the Nano would be launched on Ratan Tata's birthday December 28. But Tata is now  struggling to start Nano's production at its Pantnagar plant in Uttarakhand (48,000 units capacity).
Tata has already made arrangements to get the right number of components from the individual manufacturers(for 4000 cars per month). Tata's main concern is quality control. They do not want to release the Nano in a hurry and face problems related to quality later. They are ready to wait even for months, to avoid any compromise on quality. Tata has been in turbulent times for the past two months. A car with sound quality checks is the need of the hour even for Tata to scortch all rumors. Also, Tata expects to sell no more than 10 Lakh Nanos in the next five years.
IAB Comment: We have waited a whole year for this car to release. Two month extension- Big deal!! If Tata is adament, which they are, we think a handful Nano's in December might come out of the plant just so that they keep their word and to save their blushes caused by the press. But expect very long waiting periods.
Source-India Automotive