Mercedes-Benz Special Trucks has celebrated the world premiere of its new generation models of Unimog and Econic trucks at the Auto Shanghai 2013. A ten-model Unimog lineup besides several two and three-axle variants of the entry level Econic special-purpose truck have been unveiled recently.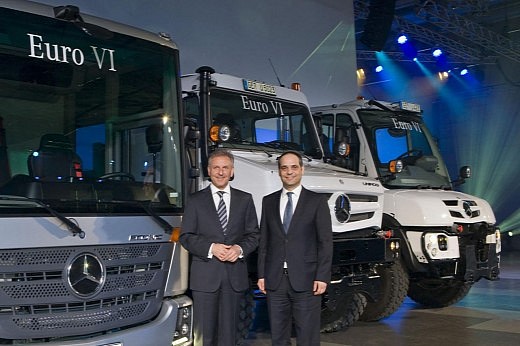 Both the model ranges are powered by Euro VI-compliant engines which means that Mercedes-Benz Trucks is the only current manufacturer in Europe to offer Euro VI-compliant products in all of the truck divisions. For the all-new Unimog all-terrain vehicle and implement carrier, four and six cylinder engines will be on offer, ranging from 155 to 355hp.
In addition, the Unimog all-terrain vehicle adopts a renovated mid-engine concept, and the Unimog implement carrier features a new synergistic traveling drive and an updated cabin. The new Unimog will have daytime running lights and front camera with repositioned windshield wipers for increase the visibility. It also has a climate control feature.
The Econic truck will be equipped with a 7.7 litre diesel engine. The power outputs will be of range: 300hp and 355hp. The new Econic carrier, which has newly-designed steering wheel, will also have ergonomic improvements as a result of its new chassis, interior, and exterior. Despite payload being same, Mercedes claims that it is more economical than its predecessor with less repair and maintenance cost.
The production of the Mercedes Unimog and the Econic is slated to start in September at the automaker's Worth plant, Germany.
[Source: Benzinsider.com]