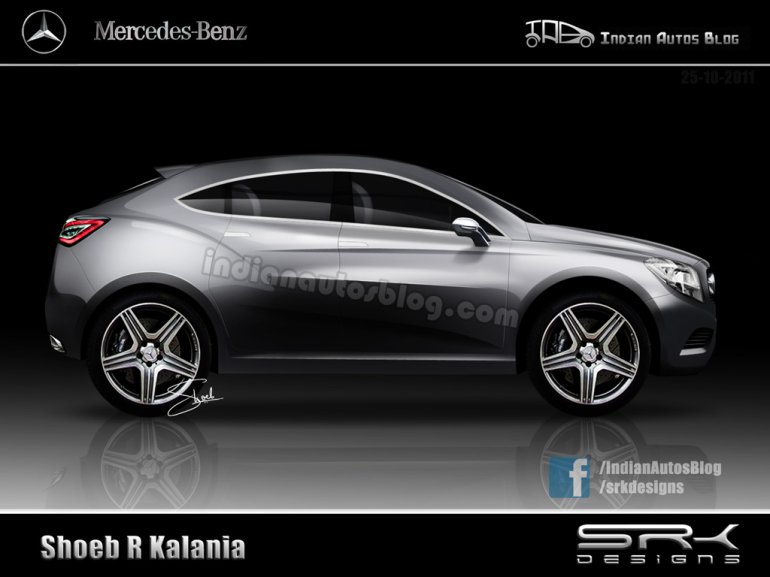 By now, all of you know that the small compact crossover based on the Mercedes MFA (Mercedes Front wheel drive Architecture) platform is in the making.
The Mercedes Benz India management, time and again, well ahead of the product's market schedule, have expressed how much this launch means to them, to aid them in re-scripting what is now a two-horsed race for the luxury segment crown.
Our in-house artist, Shoeb, rendered what the small Merc SUV would look like way back in 2011.
Now it seems that Mercedes are in the final stage of their new offering likely to be called the GLA Class. Mercedes Chief, Dieter Zetsche, told the media in a press conference held in Germany last week that the compact crossover would be previewed in the concept form at the Shanghai Auto Show, which is scheduled in April this year.
The news does not stop there. The production-ready GLA Class has been confirmed for the Frankfurt Motor Show, scheduled for September this year. However, it is believed that Mercedes will host a private unveiling of the car even before its debut, like how they did with the CLA Class.
The GLA is the most important future launch for MB India. With rivals BMW and Audi catering their respective offerings (the X1 and the Q3) to the SUV loving market, Mercedes is in desperate need for an affordable SUV. Right now, the M Class is the most affordable three-pointed SUV in India, which is priced at over 45 lakh rupees.
Expect the GLA to get similar powertrains as the CLA which means that a turbo 2.0-liter petrol, like its two biggest rivals, would be the prime option. Mercedes would also have its 4Matic all wheel drive system on the higher variants. We'll have to wait and see how well the GLA Class is configured for India.
Now, Audi is known for using the 'A' in their cars names as an aspiration. It seems, Mercedes is embracing the letter as well, with the A Class, CLA Class, GLA Class and the upcoming CLA Shooting brake as well!
[Source - MotorAuthority.com]