The Pullman would get the 6L V12 engine. 
The 2014 Mercedes S Class' portfolio is yet to be completed, with models like the Coupe-based convertible and the uber luxurious Maybach and Pullman variants still in the pipeline. Our digital artist Shoeb, presents an early look at the S Class Pullman Limousine which is expected to launch next year.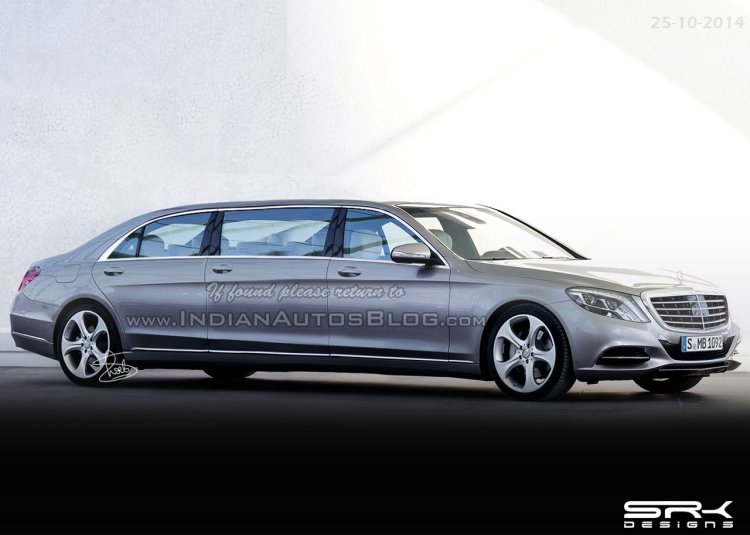 Based on spyshots, we can report that the S Class Pullman's front and rear fascias are identical to the regular S Class. The major change, or rather the purpose of the Pullman is its middle section which has been extended to accommodate the third door. Early reports suggest that the Pullman could be about 1,165 mm longer than the 5,246 mm long S Class LWB.
Power for the Pullman will come from the flagship engine in the S Class range. The engine in question is a 6.0-liter V12 motor making about 530 hp and 830 Nm of torque, paired to a 7-speed dual-clutch transmission. This engine is currently offered on the S600 and the S65 AMG (where it develops a bit more power and torque).
Also read: Review - 2014 Mercedes S Class
The Pullman will find prospects in VIPs, government dignitaries, diplomats, politicians and top-level businessmen and women. Its biggest market is expected to be China, and hence an unveiling at the Shanghai Motor Show in April 2015 is a possibility, though a preview at either the earlier Guangzhou Auto Show or even at the Los Angeles Auto Show next month cannot be ruled out.