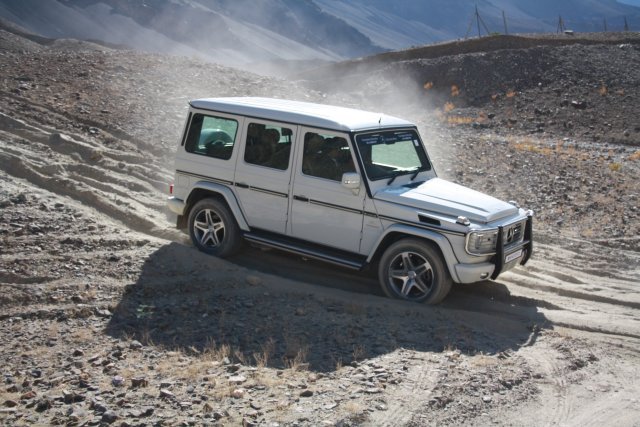 Priced at 1.1 crore rupees (ex-showroom) and bearing familial connections with not one, but three rural-area utilitarian vehicles (Tata Sumo, Force Trax, Mahindra Armada) hasn't thwarted 20 wealthy Indians from aspiring for a brand new G55 AMG [read about the G55AMG to know everything about this monster].
Such customers are not seeking the kind of kit cars at this price band offer - Carbon fiber body parts, a golf course level of  rear leg space, Arm-chair comfort, Nappa leather, four-mode Seat massage, Pin-drop cabin silence, etc - none of this is available on the G55. Darn, this warrior built for the German army back in 1970's still has household-type switches on the dashboard and the seat belt for the middle passenger extends from roof-mounted clamp bringing imagery of drawing water from a well.
A Mercedes S-Class is available for that kind money with the aforementioned features.
So what is the G55 AMG customer looking for?
Customers adore the design of the G-Class, its raw and rugged appearance, the AMG-tuned powertrain that pumps out 503hp/700Nm and the feeling of driving a distinct or unique model. Besides the bone-shattering performance and the evocative note of the V8 motor through the sideways-mounted exhaust pipes, the G55 AMG is status message on wheels. A recent study showed that 99.5% of Mercedes customers in India haven't off-roaded. You can argue that the path leading from home to work is an obstacle course, but only a few G55 AMG customers are going to be real exceptions. By doing so they will enjoy the experience of one of the best off-roaders money can buy!