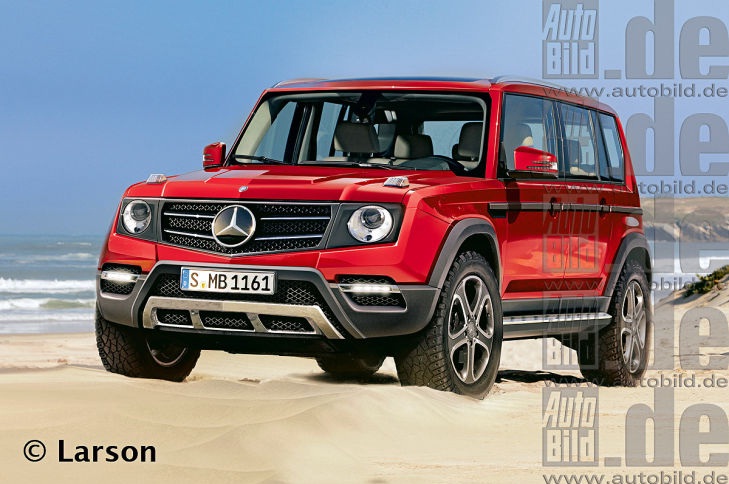 Since the time Mercedes has announced the Mini G Wagen, we can't wait to see the new model in flesh. I remember when I saw the first Mercedes G Wagen in flesh in Mumbai, I was stunned to see the sheer road presence of this dinosaurish SUV. I was also stunned with its asking price, which stands at 1.25 crore!
So clearly, when Mercedes decided to update the SUV's design in a very modern way, you have to hold your breath until you see the final outcome.
However the final outcome is still a good three or four years away. Here we have yet another rendering of the GLG Class from AutoBild.de.
What do we know about the Mercedes GLG Class?
It is codenamed X156 and lovingly called 'mini-G'
The model will be called GLG Class if and when it reaches production.
It will be a very niche offering with a boxy design influenced by the G Class.
It is designed to look like an off-roader but it can at most handle muddy potholed road.
The car is given a box shape which should provide a spacious cabin and an exceptionally good look in the segment that it is in. Nevertheless, you can experience better aerodynamics than the barn-door G-series.
It will have a more upright roofline and boxy design reminiscent of the old Gelandewagen but in a very modern way.
It will have a tailgate mounted spare wheel, boxy taillights integrated in the rear bumper, front wing-top indicators, round headlamps and full-length rubbing strips.
It will have a wide track and will be based on an extended wheelbase of the MFA platform. This means it is predominately a front-wheel-drive car.
A dedicated off-road version with Mercedes's 4Matic technology with an off-road package, hill descent control, dedicated 4×4-driving program, skid plates and a compass is also in the making.
Under the hood, one can expect a 1.6-litre petrol with 122bhp, or a 2.0-litre petrol with either 156bhp or 211bhp. There will also be four diesel engines including a 1.8-litre diesel with 109bhp and a 2.1-litre in differing states of tune making 136bhp, 170bhp, and 204bhp.
Mercedes is also planning an AMG model which will be called the GLG45 AMG. It will have bigger brakes, a seven-speed automatic gearbox, quicker steering and a re-engineered front axle.
The new GLG SUV is expected to hit the stands in 2015 with a price tag of 32,500 Euros (around 22 lakh INR)
[Rendering Courtesy:  autobild.de]