Mercedes launched the GL63 AMG in India today. The mammoth performance-oriented SUV has no competition in India from its traditional rivals, the Q7 and X5. However, the top-end 2014 Range Rover Sport with the 5.0-liter supercharged V8 engine, and the Porsche Cayenne Turbo S sport similar specs as the GL63.
All three SUVs come with large-displacement V8 engines. While the GL63 gets a 5.5-liter twin-turbo, the Cayenne features a 4.8-liter twin-turbo, and the Range Rover Sport relies on a 5.0-liter supercharged engine. The Mercedes makes the most power as a result, 557 hp, as compared to 550 hp from the Porsche and 510 hp from the Range Rover.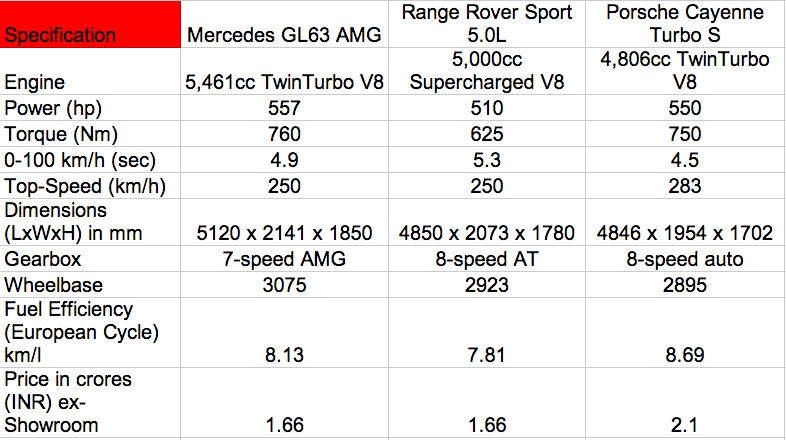 The Cayenne is however the quickest to 100 km/h taking only 4.5 seconds, while the Mercedes does it in a shade under 5 seconds. The Range Rover Sport takes 5.3 seconds. In terms of top-speed, the Merc and Range Rover are restricted to 250 km/h, while the Porsche goes all the way to 283 km/h.
While the Range Rover Sport and Cayenne get an 8-speed automatic transmission, the GL63 sports an AMG-tuned 7-speed SPEEDSHIFT gearbox. In terms of prices, the Range Rover and the GL63 are priced at an identical INR 1.66 crores while the Porsche is the most expensive here.
[Note: Prices mentioned are ex-Showroom.]