Indian arrival not finalized yet.
Mercedes has begun the production of the CLA Shooting Brake at its plant in Kecskemet, Hungary. Showcased at the recent 2015 Detroit Auto Show (2015 NAIAS) and at Salon de I'Auto in Brussels, the vehicle's European deliveries will begin in March.
[Can't see the video above? Head to
YouTube
.]
Based on the same platform that underpins the CLA sedan, or MFA as the company calls it, the Mercedes Benz CLA Shooting Brake is near-identical to the sedan version in terms of dimensions, only 3 mm taller: 4,630 mm in length, 1,777 mm in width, and 1,435 mm in height. Space inside hasn't changed, but the estate body style means the boot capacity increases to 495 litres, from 470 litres on the sedan. On folding the rear bench, the capacity increases to 1,354 litres.
On the outside, it continues a very similar look as the CLA sedan especially at the front. On the sides and the back, the CLA Shooting Brake mimics the larger, and more expensive CLS Shooting Brake with an extended roofline that houses the boot.
Powering the vehicle is a range of 4-cylinder petrol and diesel engines. The lower end of the range gets two 1.6-litre tubrocharged petrol units, while slightly more powerful versions get a 2-litre engine. The diesel engine choices include a 2.2-litre unit available in two states of tune.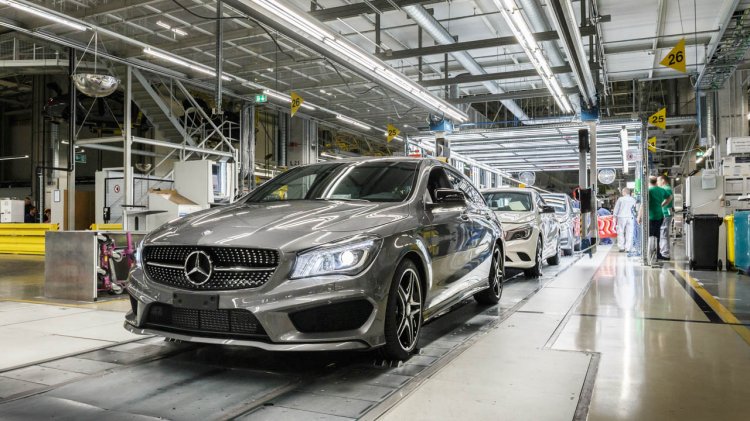 Also read: Mercedes Maybach luxury SUV in the offing
In markets abroad, the CLA Shooting Brake can be booked now. As for its Indian arrival, Mercedes Benz had earlier mentioned that the company would study if the market needs a product like the CLA Shooting Brake, and only then will it decide if the vehicle will come to India or not.
Mercedes CLA Shooting Brake Production - Image Gallery
Mercedes Benz CLA Shooting Brake production - Press Release
[Can't read the document above? Head to
Slideshare
.]