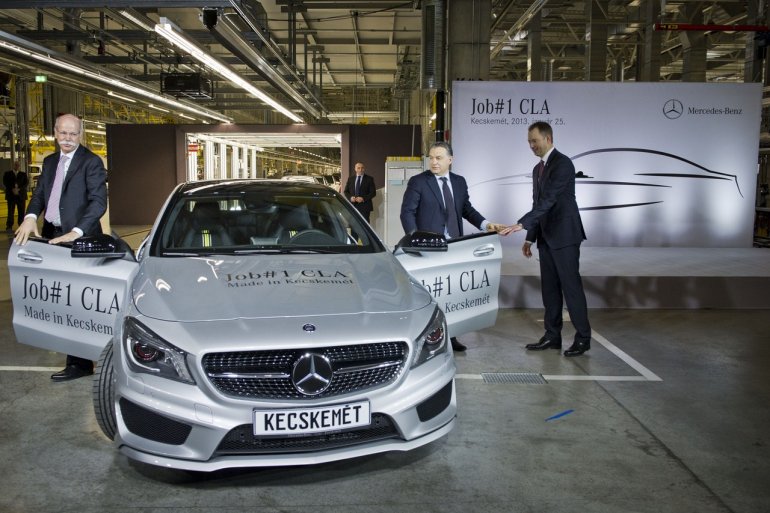 The Mercedes CLA Class has mesmerized many of our readers through its shape and design features such as the perforated front grille and frameless doors. The good news is that MB India is studying the market to launch it. If all goes well, the CLA will be the third vehicle in the MFA series to be launched in India, with the other two being the B Class and A Class.
The CLA's production has just been announced at MB's new plant in Kecskemet, Hungary where the B Class is also manufactured. The first CLA Class was driven out of the assembly belt by Dr. Dieter Zetsche, Chairman of the Daimler Board of Management and Head of Mercedes-Benz Cars and Hungarian Prime Minister Victor Orbán. The Kecskemet plant was opened in March 2012 with the production of the B Class. Over 40,000 copies have already rolled off the lines. To prepare the factory for the CLA's production, MB recruited 500 additional employees taking the overall headcount to 3,000 members.
"The CLA is based on the Concept Style Coupe, which we introduced last year. The most frequent comment by far was 'Please put this car into series production.' That's precisely what we are doing now," Dr. Dieter Zetsche commented.
The CLA comes with world-best aerodynamics (Cd = 0.22) and 4MATIC all-wheel drive technology (optional). Following the idea of the CLS Class, almost every piece of the Concept Style Coupé's design has been brought into series production.
The CLA is equipped with radar-based braking system as standard. Order books are open, with deliveries starting in April.