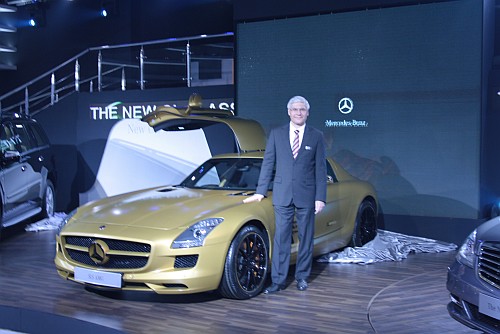 The Mercedes Benz SLS AMG, which is a modern day successor to the iconic 300SL Gullwing, is what auto enthusiasts call the pinnacle of German motoring. The Merc SLS AMG was unveiled at the 2009 Frankfurt Motor Show and shown to the Indian audience at the 2010 Auto Expo New Delhi.
Now Mercedes Benz India would be launching the SLS AMG by September this year. The Mercedes Benz SLS AMG could retail at around 2 crore Indian Rupees after import duties and excises.
Piyush Arora, Director (Technical) & Board Member, Mercedes-Benz India -
The SLS will be available in India in the third quarter, though a date for the official launch has not yet been determined.
The Mercedes Benz SLS AMG luxury GT is constantly being promoted by Mercedes in India, thanks to the tunnel stunt shown to be pulled off by Michael Schumacher, which is being aired on Indian televisions almost all the time.
The SLS promotion by MB India is also an attempt to lure young buyers away from BMW who prefer Bimmers for their sporty appeal. With Merc's prime rival BMW doing without a top end Luxury Grand Tourer India, the SLS could be its ticket to glory in the premium sports car segment.
The Mercedes Benz SLS gets a 6.2 liter V8 producing 563 hp and 650 Nm of torque. Power is transferred to the massive 20" rear wheels via a AMG Speedshift DCT 7-speed dual-clutch transmission and a carbon fiber driveshaft. All this can propel the 1620 kilo luxury GT to 100 kmph in 3.8 seconds and to reach a top speed of 317 kmph.
Source: Motorbeam