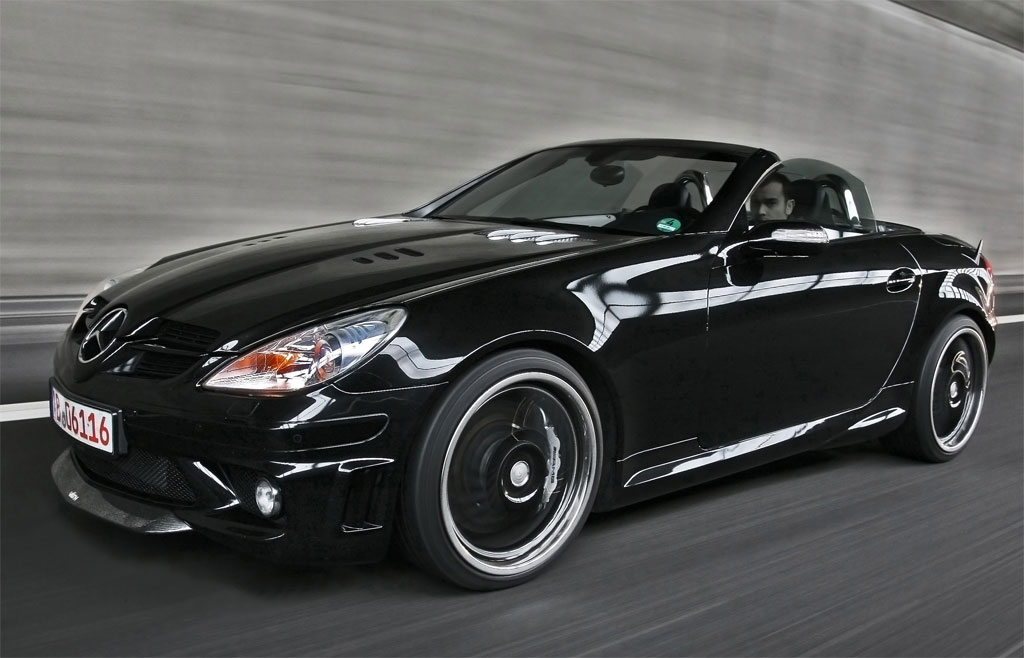 Vath, the popular tuners who earlier tuned the Mercedes C200 Kompressor, have laid their hands on a car that is already insane to start with. Firstly, its a Mercedes SLK 55 which is already hugely powerful and for that extra bit of power, its an AMG supercharged V8. Now, you might be thinking possibly how Vath could improve on this. The best part is this car is available now in India, but the big question, is who would dare to install such a fierce package?
The 'normal' 5.4l Supercharged V8 is bumped up from 360 bhp to 570 bhp and a whopping 770 Nm of torque. What's more, even the 155 mph limiter has been removed and the Vath SLK can go all the way to 300 kph (limited at 300kph) and the sprint to 100kph comes up in just 4 seconds, down from 4.9 on the normal model. Imagine that V8 burbling when delivering 570 bhp. Mundane!
To prevent it from transforming into an aircraft, the Mercedes Benz Vath SLK gets a new Aerodynamics kit which includes carbon front spoiler lip and a rear diffuser that keeps it glued to the ground. To improve handling, you get a new Stainless steel exhaust system, all new suspension system and 19-inch alloy wheels.
The interiors of the Vath tuned Mercedes SLK 55 AMG features a carbon-fiber trim package, a stainless steel roll bar and a sport steering wheel. This completes the Vath kit that features an all round package and makes the SLK that makes it that much more unique. Prices have not been announced yet but expect it to be excruciating.
Source : Zero Customs