At the launch of the new Mercedes Benz C-Class here in Delhi, the top management discussed not just about the facelift but many other issues pertaining to Mercedes Benz cars for India and the roadmap in 2012. With the inaugural Indian GP now just weeks away, Mercedes is eagerly looking for ways to piggyback on the F1 team's participation to reshape the brand and transform the way India looks and thinks about a Mercedes Benz.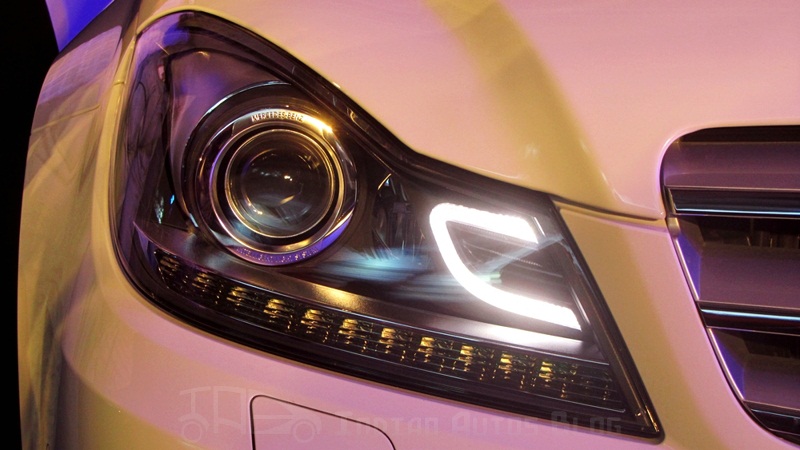 Mercedes Benz sees the F1 race as an opportunity as the other two German rivals do not participate at the highest level of motorsport.
Here are some of the information IndianAutosBlog.com was able to gather from the press conference
Mercedes's key attributes are Luxury and Sports performance, but in India Merc is known for its luxury more than its sports pedigree. The association with F1 in India and Buddh circuit in Noida will play important roles in the coming months as it repositions itself as luxury & sports brand. A new lease of marketing activities have been planned to this effect.
Merc wants to tap every ounce of the demand during the festive season and will do so by launching two vehicles in the next four weeks (CLS and variants of existing cars?)
It achieved 40% growth in first seven months of the year compared to the corresponding period last year
Merc in India is present from 1997 and has over 35,000 cars running on our roads
With 55 Service stations nationwide followed by a few more in the coming months Merc has the largest A.S.S network amongst the luxury car manufacturers.
Two additional service stations coming up in Delhi very soon to reduce the burden of increasing vehicles on current service infrastructure
Merc Portfolio Sales ratio in India: 2/3 Diesel cars and 1/3 Petrol Cars - so it isn't only the Swifts and Figos that are finding petrol unfavorable.
C-Class portfolio Ratio: 45% Petrol cars and 55% Diesel Cars, Petrol cars ratio increased because of availability of all new CGI technology - Marketing speak or legitimate claim? - you decide.
Merc currently sells 200-250 units a month, Targets 300-350 units (overall) with new C Class.
The new C Class has been launched in India in a period of 5 months off from its global launch. RHD conversion took time.
No Plans for SMART cars in India, Merc doesn't see a market for such products.
Total of 600 CR Investment in Chakan Plant with lots of available space to boost capacity as and when required.
More CBU-route cars expected to come through CKD route, Merc hinted that a couple of SUV's expect it to be assembled in India next year. If you have been reading IndianAutosBlog, you'd know they are referring to the new M & GL Class.