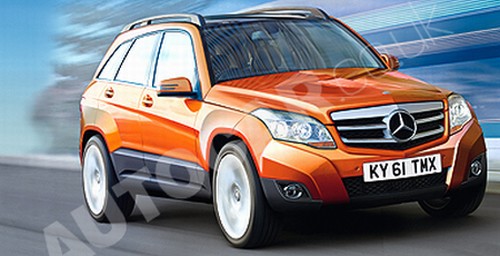 Could the representation shown here be the cheaper Mercedes Benz SUV based on a cheaper, smaller platform?
There is a price war raging in the luxury car market that was previously unheard of. Both Mercedes Benz & BMW are trying to outdo each other by launching stripped down, cheaper variants of their cars. Now Mercedes is going in a completely new direction.
Autocar reports that the company will now move to a new, front wheel drive architecture or MFA (Mercedes Front Wheel Architecture) for all its cars. This would make the cars more fuel efficient & would also save costs for the company. All Mercs will be based on this architecture as it can support a wide range of wheelbases & configurations.
This platform can also support greener technologies like a fuel cell powertrain. A wide range of future Mercs would be based on this platform & we could see a Mercedes cheaper than the A class too. Dr Bharat Balasubramaniam , Vice President, Group & Advanced engineering, Daimler AG told ACI that MFA platform would be more suitable for India as Mercs would be more affordable.
Mercedes might finally be able to bring the A-Class to India at an affordable price. But more importantly the company is contemplating on the introduction of a mini SUV by 2013 in the Indian market that would be a direct competitor to the BMW X1 & the Honda CR-V.
This new direction by Mercedes Benz would mean that Indian customers would get feature packed cars at an affordable price & not stripped down versions of the same.
Image Source - Auto World