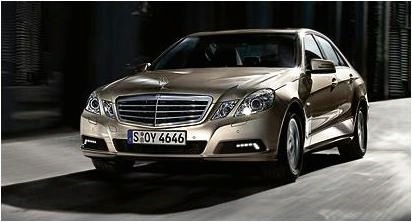 The Mercedes Benz E-Class has maintained itself to be the best bet above the 'C' and a brilliant alternative to the ultimate 'S'. So the new one makes the S class redundant is what you might be thinking about this large cossetting piece of metal.
These are the first official images of the new Mercedes E-class, released accidentally on Mercedes' official German website this morning (was it really accidental?). The pictures come more than a month before the luxury saloon is due to be unveiled to the entirety of mankind waiting to see this mini-limo. We'll see it for the first time in the metal at the Geneva motor show in March.
The new E-class, a direct rival for the BMW 5-series and Audi A6, has been designed to reduce Merc's manufacturing costs by 25 per cent compared to its predecessor. Despite this, E-class list prices are expected to remain similar to the current model when it's launched in the spring.The reason for the reduced costs, i believe are because of the fact that it looks so much like the S Class.
Next year's E-class is bigger than the outgoing model. At 4950mm long it is 70mm longer, a move aimed at boosting safety as well as improving rear seat accommodation and load capacity. There are no official figures yet, but Autocar sources say boot capacity for the saloon is 550 litres – up by 10 litres on today's model.
Cosmetically, the new E-class draws heavily on the Mercedes Fascination concept we saw at the LA motor show. It gets the taut body surfacing treatment familiar from recent Mercedes models, along with new distinctive headlamps that ditch the rounded theme from previous generations for an edgier form with four elements. Top-end models will be marked out with LED daytime running lights.
Expect more fuel-efficient engines to power this generation E-class. There will be a revised line-up of four-cylinder petrol and all-new common-rail diesel engines. The entry level engine will be a 163bhp 1.8-litre petrol (the E200 Kompressor). There will be a range of 2.5-litre, 3.0-litre and 3.5-litre V6s, along with a naturally aspirated and twin-turbocharged 3.0-litre V6 diesel.
Top-end models will include the E450 and E500, which will be powered by Benz's 340bhp 4.6-litre V8 and 388bhp 5.5-litre V8 respectively. These engines are seen as stop-gaps before upgraded versions with direct injection and twin turbochargers are launched in 2011.
The E-class will be offered with either rear-wheel drive or Mercedes' 4-Matic four-wheel-drive system.The saloon, shown here without disguise for the very first time, will be followed around six months later by an estate, which will hit Europe showrooms in October 2009.
In a bid to re-establish it as a leader in technology in its class, next year's E-class will get all the high-end features available on the larger S-class, plus some new safety features. Among an extensive list of options will be a second-generation version of the German maker's night vision system, together with a new fatigue detection device called Attention Assist.
There will also be lane departure warning and the latest NTG4 navigation system in combination with an all-new entertainment system from Mercedes' long-time partner Harman Becker.
Source- Autocar UK