Mercedes Benz India has confirmed that the B Class Sports Tourer will take its public bow on the 18th of September.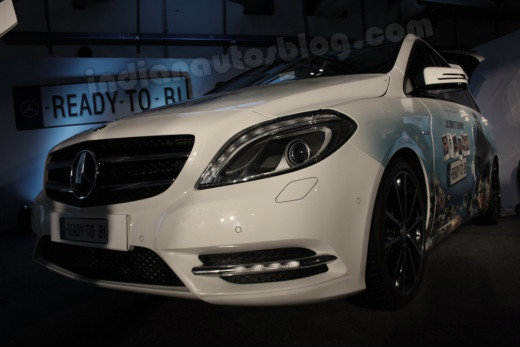 You may have seen the B Class at regional launch parties, but that was a B200 variant in LHD configuration.
The national launch will be held in Mumbai, with the car initially arriving in India as a CBU. The B Class will not available in diesel this years, a B180 petrol will be the only variant, and perhaps as a few months into 2013, Mercedes Benz could introduce more variants including a diesel.
Read about Indian Autos Blog's experience behind the wheel of the B Class at the Buddh
Mercedes Benz is also working on several future launches off the MFA Platform. These include the A Class hatchback (2013) and the GLA Class compact SUV (2015). Mercedes cannot take any vacations in the next couple of years as the launches don't stop here. They have planned to invested 850 crore rupees over the next couple of years to equip the production lines in Chakan for the roll out of the MFA Platform derivatives.
They have also planned to assemble the GL Class in the second half of 2013. The E Class facelift will touch down next year and lower variants of the ML Class will also have to be introduced. These will be followed by the launch of the W222 S Class.
2013-14 may well be MB India's busiest year in its history.