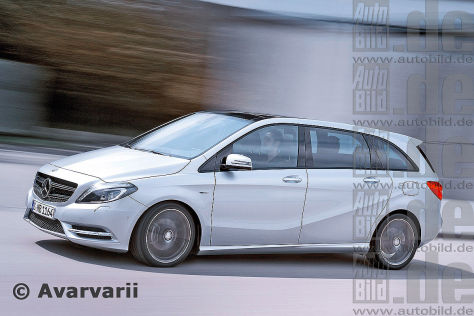 The MFA (Mercedes Front Wheeled Drive Architecture) is proving to be a cash cow for Mercedes.
Mercedes has realized that its brand positioning of 'old money' is not sustainable in the future. So the German automaker wants to woo the younger audience by creating some really interesting propositions on the MFA platform.
After basing the all new A Class and the B Class Sports Tourer, Mercedes is planning really innovative products on this modular platform.
The Mercedes GLA, a rival to the BMW X1 and Audi Q3, is already under development. There are already talks about a compact G Wagon based on the MFA platform.
Now, Autobild reports that Mercedes in planning a 7 seater Minivan on the MFA platform.
The new 7 seater minivan will be like an XL version of the B Class Sports Tourer. It will be based on an extended version of the MFA platform.
If you look at the rendering carefully, you will notice a prominent rear overhang. The rest of the B Class will not be majorly modified. Even the engine line up will be carried over from the 5 seater B Class. So expect 1.6L petrols and 1.8L diesels to flood the brochure.
The 7 seater Mercedes B Class will be squarely targeted against Volkswagen Touran, Ford S-Max  and Opel Zafira. Here is the good part, you don't have to wait long for the this Mercedes B Class XL. Reports suggest that a production ready model could debut as early as the 2013 Frankfurt Motor Show.
Don't think that Mercedes was the first one to think in this direction. Audi is already planning an MPV based on the A3.
Mercedes India is running from pillar-to-post to promote the 2012 Mercedes B Class in India. The automaker hopes gain good traction with the B Class Sports Tourer so that it can justify the launch of the 2012 A Class in India. The Mercedes B Class Sports Tourer will be launched in India in late September.
Mercedes India has promised that it is planning to launch 5 models in India based on the MFA platform. We would love to see the 7 seater version of the Mercedes B Class in India. It would prove a really good practical alternative to the entry level luxury sedans such as the Mercedes C Class, BMW 3 Series and Audi A4.
Stay tuned for more updates on the Mercedes B Class.
[Source: Autobild.de]