It's a very big day for Mercedes India today. After constantly bleeding its market share to BMW and Audi, finally Mercedes gets to punch some back. As we speak, Mercedes India has taken the wraps from the 2012 Mercedes B Class at the famed Buddh international Circuit.
The B Class is quite close to IAB's heart. If you remember clearly, IAB was the first publication to catch the test mule of the B Class testing in Pune.
The 2012 B Class will be introduced in India as India's first Sports Tourer. To promote it, Mercedes has launched The 'Ultimate Touring Trail' which is on the similar lines of Mahindra Great Escape. Fellow Mercedes B Class owners will be invited to exciting adventure activities such as sky diving, SCUBA diving etc.
Internationally, the 2012 B Class is sold as a Compact Sports Tourer. In lay man's terms, the B Class is a puffed up hatchback. Mercedes India claims that it offers the versatility of an MPV, ride of a sedan and performance dynamics of an SUV. Mercedes has not confirmed which engines will make it to India. The only confirmation is that the 7 speed DSG gearbox will head to India.
It is loaded with tech such as:
Speed Limit Assist
Active Parking Assist
Brake Hold and Hill Hold Function
Distronic Plus
Blind Spot Detection System
Adaptive Headlamp Assist
Pointers from the Press Conference:
This is not a launch. It is only a product showcase
People who lead adventurous life will opt of the Mercedes B class
It has a 7 speed DSG transmission. 30-40% more mileage than a sedan.
Eco Start stop, paddle shifters, Bi-xenon headlamps, 1200-1300L Bootspace, 7 airbags, acceleration skid control, tire pressure loss warning, attention assist, adaptive brakes lights etc are the features provided on the new B class.
Mercedes India also launched Readytob.in, an adventure portal where they will have a number of contests for the masses
Mercedes is right now not interested in numbers. 5 years down the lines when they will have a full portfolio in India, they will play the number game.
In the long run, the B Class will be manufactured in India with a price tag of 25 lakhs
Mercedes plans to open up a whole new segment of Sports Tourers in India.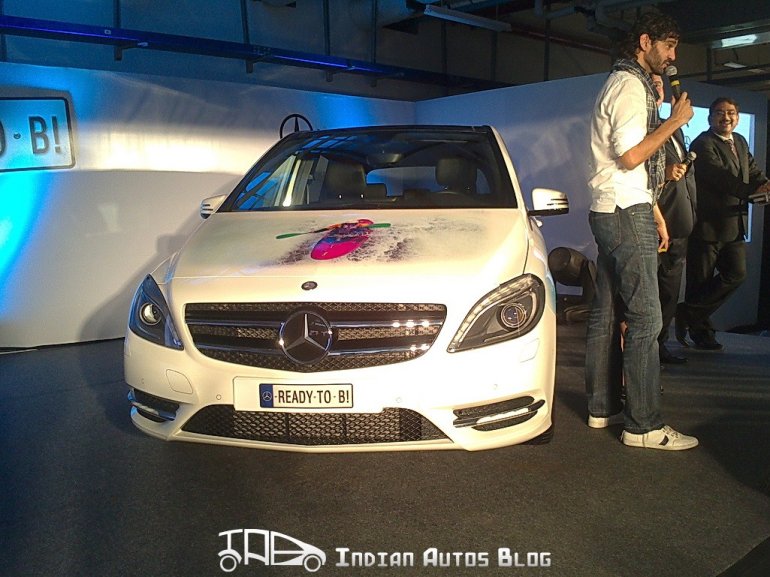 Sadly, because this is just a showcase, no prices have been revealed.
For now, the B Class will be a volume model for Mercedes India. Hopefully, it will be the cheapest Mercedes that money can buy. Mercedes is trying to garner 15-20% of the 20-25 lakh rupee segment with the B-Class. One could say, that the B Class is a stop gap arrangement until the GLA crossover hits the stand in 2014
Mercedes will be targeting the BMW X1 and Audi Q3 buyers with the new B Class. Considering both these luxury models are successful in India, expect Mercedes to get a lot of initial traction. There is a good possibility that Mercedes will sell the first couple hundred B Class through the CBU route until the assembly line is ready at Chakan. Looking at recent launches, we expect the AMG kitted models to hit the stand first followed by the regular ones