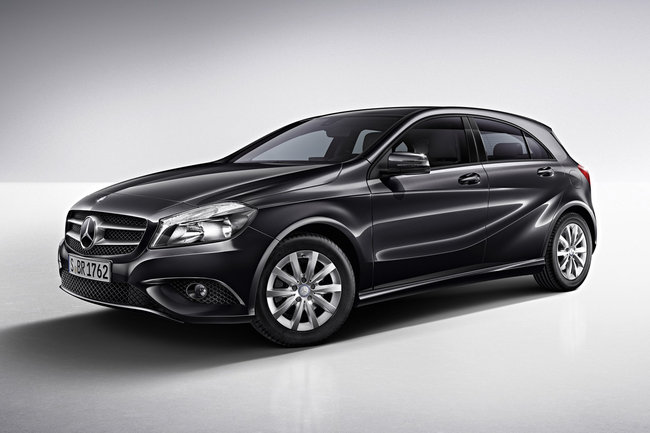 The most fuel efficient Mercedes ever, Germany's favorite car of 2012, most successful car launch in the history of Mercedes; the A Class is creating history worldwide with each passing day. Now, the little hatchback can add one more feather to its cap.
The Mercedes A Class has been voted the most beautiful car of 2012 by more than 100,000 car fans across 52 countries. Being a 'people's opinion' based award and not an automobile journo based, it indeed iterates people's changing sentiments towards the Mercedes brand. The old Mercedes A Class would never ever own this prestigious award because of its portly design.
The new Mercedes A Class, B Class and the CLA represent a new generation of Merc cars that are solely targeted towards the young executives. These cars are the building blocks of Mercedes's new identity. The Stuttgart based automaker wants to shift its brand away from 'old money'. Thus, these new MFA architecture based cars feature cutting edge designs, super sleek interiors and ultra modern features to woo the new money.
The Mercedes A Class offers a phenomenal package. Besides its progressive exterior and innovative interior design, the A-Class also features excellent driving dynamics and powerful yet frugal engines. It is also loaded with some interesting safety tech such as Collision Prevention Assist and a radar-based assistance system. The full iPhone integration that can be accessed with a touchscreen on the dashboard is just the icing on the cake.
This 'baby' Benz will head to the Indian shores soon. It is expected to get diesel power from the 1.8 litre turbocharged engine with 134 bhp. Transmission duty will be the courtesy of a 7-speed dual clutch gearbox. Mercedes is planning a sub 20 lakh price tag for the new A Class in India. It will go head to head with the Mini Cooper, Fiat 500, Volkswagen Beetle and the soon to be launched BMW 1 Series, although the main rival will be the Bimmer since the rest are more of a lifestyle products.
[Source: Carsuk.net]