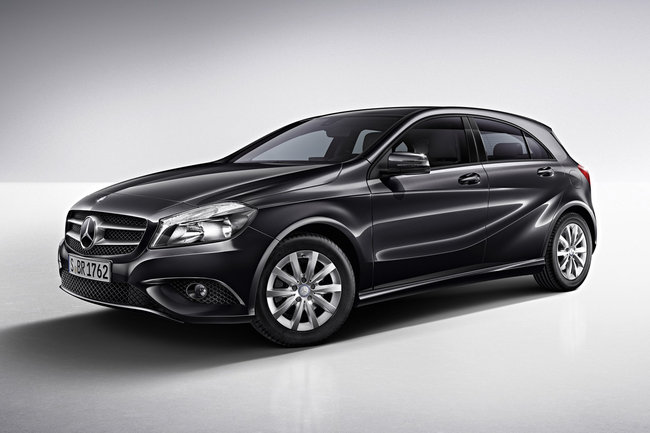 Not content with the 90,000 booking of the Mercedes A-Class, Mercedes has introduced a BlueEfficiency version of the premium hatchback. Of the two BlueEfficiency variants, it seems that the diesel one is the most frugal Merc ever!
In simple words, the Mercedes 'BlueEfficiency' models are the exact opposites of the AMG variants. The BlueEfficiency badge is endowed to select Mercs which are kinder to the environment as they sip less fuel and emit less CO2.
Mercedes has added two BlueEfficiency variants to the A-Class line-up - Mercedes A180 CDI (Diesel) and A180 BlueEfficiency (Petrol)
Mercedes A180 CDI (Diesel) is powered by a Renault-sourced 1.5 dCI (K9K) engine which puts out 109 bhp/260 Nm. It claims a fuel economy of 33.16 kmpl and CO2 emissions of 92g/km
Mercedes A180 (Petrol) is powered by 1.6 L petrol engine which puts out 122 hp/200 Nm. It claims a fuel economy of 22.95 kmpl and CO2 emissions of 120g/km
These BlueEfficiency variants are endowed with certain changes such as –
Partial covering of the radiator grille to reduce aero drag
Aerodynamically shaped spring link coverings to improve underbody airflow
A suspension lowered by 15 mm
A reprogrammed ECU
Taller gearing on higher gears in the manual gearbox
Revised generator management system
Visually, the BlueEfficiency variants get special round LED daytime running lamps in the front bumper to differentiate themselves from the regular variants.
The sales of the BlueEfficiency variants will start from February 1 with first deliveries beginning in March 2013.
Back home, although we will get diesel variants of A-Class, it is expected to be Mercedes-developed 1.8-liter diesel engine (107 hp/ 250Nm ) that has been tweaked for BS IV norms.
[Source: Autocar.co.uk]