There is no denying that Maruti Suzuki Swift dominates the premium hatchback segment in India. If you look at the sales figures of the past few months, you will realize that the Swift has outsold its closest rival Hyundai i20 by the ratio of almost 3:1.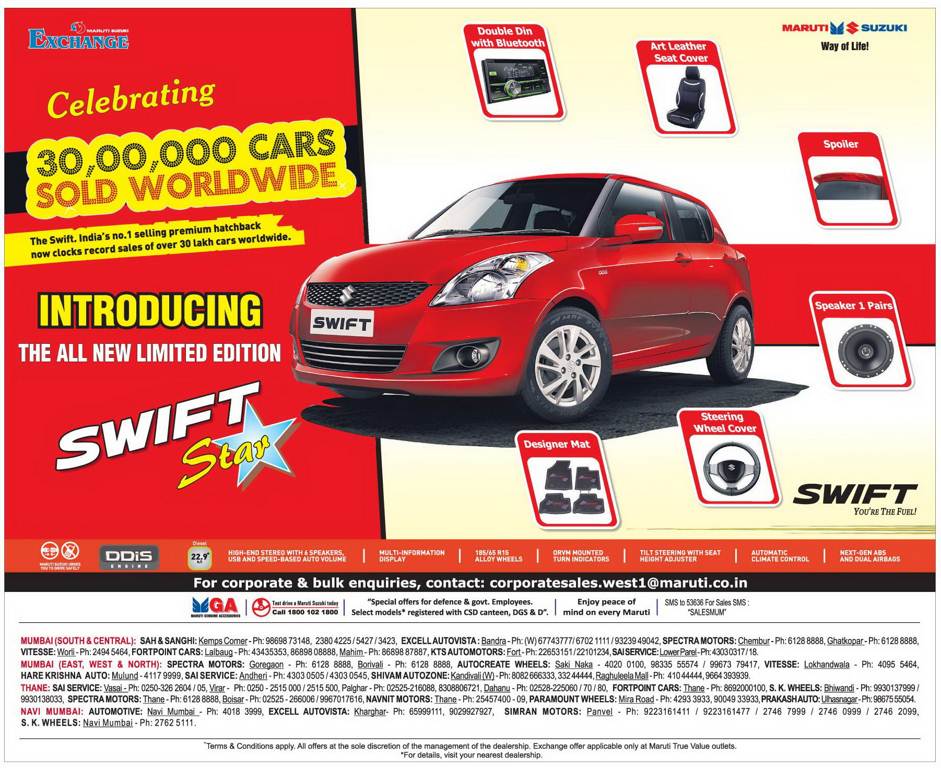 If you look at the global scenario, the Swift has sold over 30 lakh cars worldwide. To celebrate this gargantuan success, Maruti Suzuki has launched an all new limited edition Swift Star in the Indian market.
The limited edition Swift Star features the typical Maruti Suzuki add ons such as –
A double din stereo with Bluetooth
Art leather seat cover
A rear roof spoiler
Speaker 1 pairs
Steering wheel cover
Designer mats
It seems that the Swift Star is only available with the DDIS (diesel) engine which is essentially Fiat's MultiJet engine with some Maruti Suzuki badging on it. The price of the Maruti Suzuki Swift Star Edition is still unknown.
As the Indian market shows signs of slowdown, the automakers are trying new marketing tricks to put their cars on road. If you remember clearly, we recently brought you a story of Maruti giving instant deliveries of the Swift which has never happened before. Ever since the Swift was launched, it was always marred with huge waiting periods.
These special edition models from Maruti Suzuki have always been about clearing out the inventory. The Swift Star is no exception to the rule. All the accessories of the Swift Star can be fitted after-market very easily.
We are still awaiting for the day when Maruti Suzuki starts launching 'real' limited edition cars which would be collectible items rather some marketing malarkey.