Maruti's Kizashi sedan will be launched on the 2nd of February, Financial Chronicle is reporting. The vehicle will be a CBU, imported from parent Suzuki Motor Corporation's Japanese facility.
Expected to be be priced between 17-20 lakh rupees, it will use the Grand Vitara's 2.4-liter petrol engine mated to an automatic or manual transmission. On an ambitious journey to impress rich customers, variants of the Honda Accord, Skoda Superb, VW Jetta and the likes will stand in its way.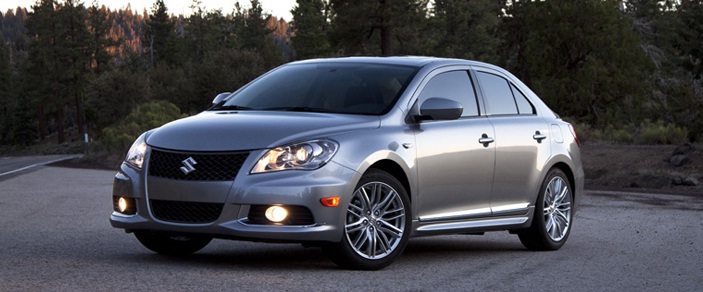 Available in black, silver and white and it will take up to 8 weeks for your Kizashi to be delivered from the time of booking.
Maruti Suzuki India Managing Executive Officer (Marketing & Sales) Mayank Pareek -
This (Kizashi) is our attempt to be future ready, as we believe the A4 and A5 segment (luxury) is going to grow. It is small at the moment but the way the economy is growing, this segment is going to be big. In another 5-7 years time, this volume is going to be big and to sustain our leadership position in the market we are looking at this segment seriously. There are nine million Maruti Suzuki customers at present. Many of them want to move up and have been asking after the SX4, what next? What we are doing here is to provide them options in luxury segment.
The company will observe the demand for the Kizashi and then ponder over the idea of assembling it locally. There was no time frame mentioned, but if the response is good, expect it to roll out of Manesar or Gurgaon.
We have no doubts that initially there will be a good number of takers for the Kizashi, but will that dream period prolong to an extent that local assembly is justified? Maruti is struggling to sell the SX4 in India, the need of the hour is a diesel engine to eat into Verna, Fiesta and Vento's numbers. How many Skoda, VW, Honda and Toyota customers are going to be interested in checking out the Kizashi?
Fast Fact - Indian Autos Blog's first post on the Kizashi came on September 3, 2008.
Source - Mydigitalfc.com