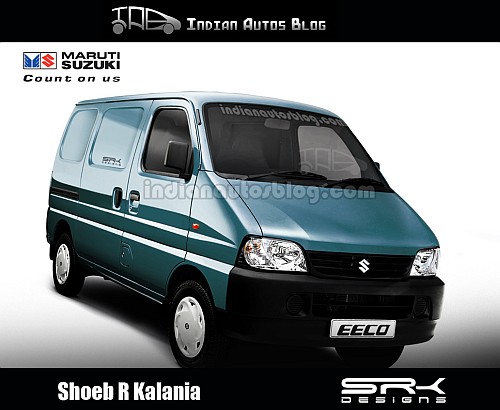 Could this be the Maruti Suzuki Eeco Flexi? A passenger vehicle with blacked out windows and seats vacated to turn it into a high-utility carry van?
Sources have told Indian Autos Blog that the Maruti Eeco Flexi (the suffix is our suggestion) could come with a LPG/CNG option apart from the petrol fuel powering the 1.2-liter engine, that makes 73bhp and 101Nm torque and is tied to a 5-speed manual transmission. Maruti already offers the Omni as an utility van (Omni Cargo and Omni LPG) which has penetrated cities quite phenomenally.
The Eeco was introduced to offer the Maruti Omni customer wishing to upgrade. Many of these Omni customers use their vehicle to deliver supplies, and since the time they bought it, their business could have developed requiring a bigger and a more versatile vehicle. The Eeco Flexi could just fit the bill for those buyers.
Maruti EECO Flexi high resolution image