The soon-to-launch Maruti S-Cross will compete with the likes of the Renault Duster, Hyundai Creta and the Mahindra Scorpio on price. As Hyundai are yet release the detailed technical specifications of the Creta, this comparo only sees the Scorpio and Duster against the S-Cross.
Dimensions: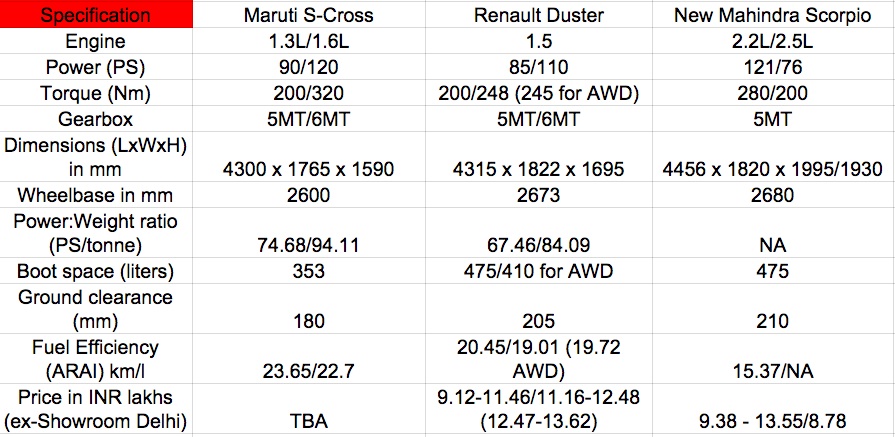 Naturally the Scorpio has the advantage here, but one would be surprised by how much the other two come close. In terms of overall length, the S-Cross and Duster are 10-15 cm shorter than the Scorpio, whereas in width, the Duster is the widest of the lot. Even in wheelbase, the Scorpio manages to outdo the Duster by a mere 7 mm.
The Scorpio also has the highest ground clearance at 210 mm, while its boot capacity at 475 liters matches that of the Duster 2WD. The S-Cross has a 353 liter boot and a 180 mm ground clearance.
Powertrain: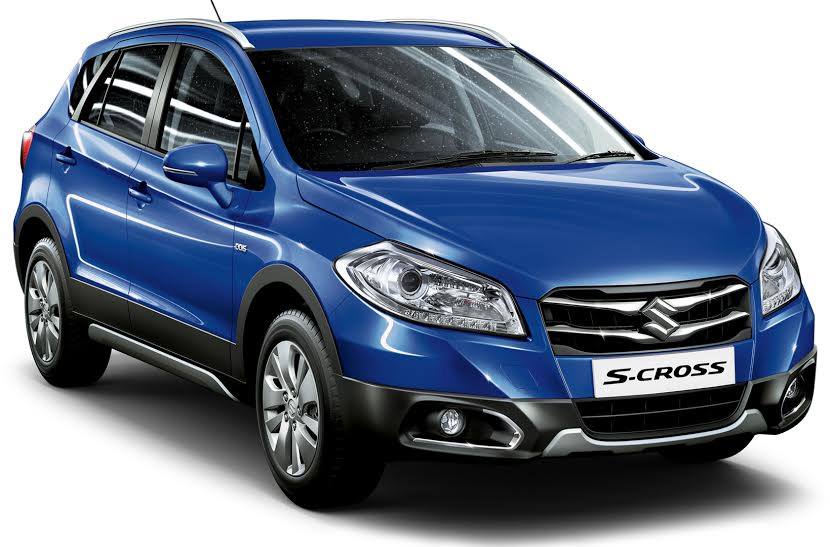 On displacement, the Scorpio has the largest engine at 2.2-liters (a base model with a 2.5-liter engine is also offered), while the S-Cross gets 1.3- and 1.6-liter Fiat-sourced units, and the Duster gets the 1.5-liter dCi in two states of tune. The 1.6-liter unit of the S-Cross matches the Scorpio's power output, and gives the crossover a class-leading torque of 320 Nm.
While top-end variants of the S-Cross and Duster get a 6-speed manual transmission, the Scorpio makes do with a 5-speed gearbox. Between the Duster and S-Cross, its the latter which sports a higher power-weight ratio thanks to a lighter kerb weight.
The lightweight also helps the S-Cross with a class-leading efficiency, be it the 1.3- or 1.6-liter model. The Scorpio, which is the only ladder-on-frame SUV here, has the lowest efficiency of 15.37 km/l.
Prices:

The Duster and Scorpio are similarly priced: Both start in the region of INR 9 lakhs for the base variant and extend up to 13.62 and 13.55 lakhs respectively for the AWD variant. The S-Cross though will come only with a front-wheel drive layout, and is expected to be priced along these lines. However, the imported 1.6-liter diesel engine could prove to be expensive for Maruti to undercut rivals.