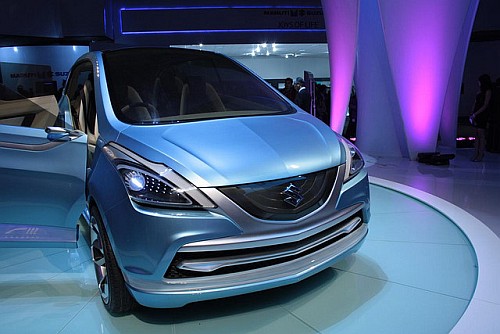 The MUV market is on a growth in India with vehicles like Bolero, Innova being the current champions. Tata will also enter the fray by bringing in the Aria, though that's expected to be on the expensive side. All this hustle and bustle has caught the eyes of Maruti Suzuki which is putting together plans of launching a MUV in 2012
Earlier as well, Maruti made half hearted attempts to enter this market with the help of Versa but didn't taste considerable success. The Eeco has worked for Maruti but the question is how long will it be able to sustain numbers?
Maruti, we think, has got its act together and will launch a MUV based on the R3 concept that it showcased at Delhi Auto Expo 2010. Priced in the bracket of 7-9 lakhs, it will take the the compact MUV market head on!
The R3 will be smaller than the Innova and will seat 6-7 people. It would be based on a extended and heavier SX4 platform and could come with the Swift's 1.2 liter K-Series engine or the SX4's 1.6 liter VVT engine.
Also the Maruti MPV could get diesel engines from Volkswagen, thanks to the latter's 19.9% stake in Suzuki. Or Maruti could use the 1.3 liter DDiS diesel engine probably with a VGT (Variable Geometry Turbocharger).
The bigger news is that Volkswagen and Skoda are also interested in this platform to launch their own product in the Indian Market. As Maruti-Suzuki is an expert in mass volume and low cost, VW may leverage its relationship by making their own MUV's contract manufactured by Maruti.
The model will undergo testing in the next few months post which it will also be shown to VW.
Source - NDTV Profit