Maruti's first attempt at a budget hot hatch. 
One of the most used acronyms to convey high performance in the automotive world is, undoubtedly, 'RS'. Of the top of my head, a few cars I can list are the Ford Focus RS, Renault Megane R.S, Porsche 911 GT3 RS, Audi RS 7, Jaguar XF R-S (now discontinued), and more. If you know more, feel free to tweet the names to us (@indianautos).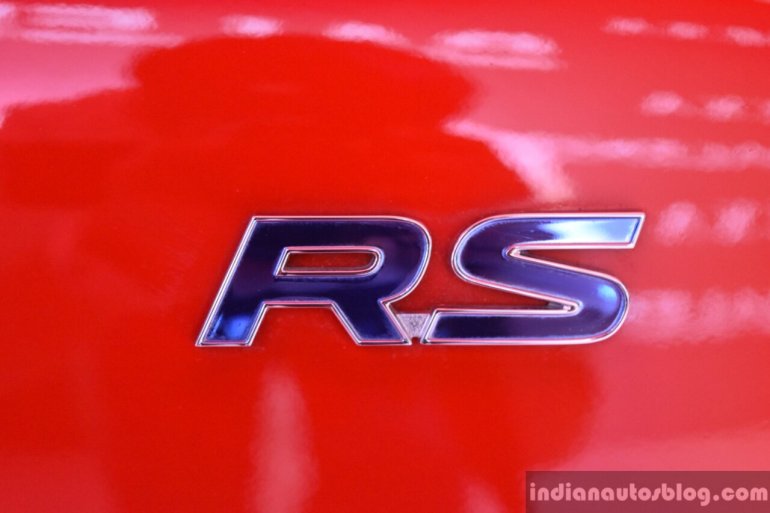 Maruti is also one such manufacturer to use the RS badge in products like the Swift and Ciaz, although they are mere posers. Up until now, the upgrades Maruti have made to RS-branded models have only been visual; from behind the wheel, they are as exciting as their respective regular counterpart.
With the budget-oriented performance hatchback segment becoming increasingly popular in the Indian market, Maruti was tempted to step into new territory, where usual priorities such as fuel efficiency and ride comfort have to take a back seat, and outright performance, as well as cornering capabilities, are to be in the vanguard of technical development.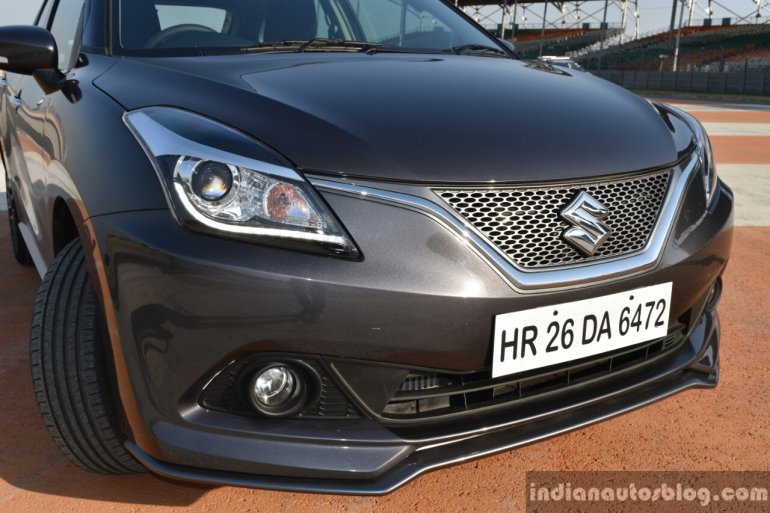 They picked the Suzuki Baleno Boosterjet (sold as a regular variant in international markets) to make a budget hot hatch out of. The resulting product was christened 'Baleno RS', which broke cover at the Auto Expo 2016 and received an overwhelming response from the public.
Fast forward to today, Maruti have already dispatched initial examples to NEXA dealerships across India and disclosed the much-awaited price - INR 8.69 Lakhs (ex-showroom Delhi). A day after the price tag was revealed, we got an opportunity to sample the Maruti Baleno RS at the Buddh International Circuit in Greater Noida. The choice of venue itself shows how strongly optimistic Maruti is about the Baleno RS' performance.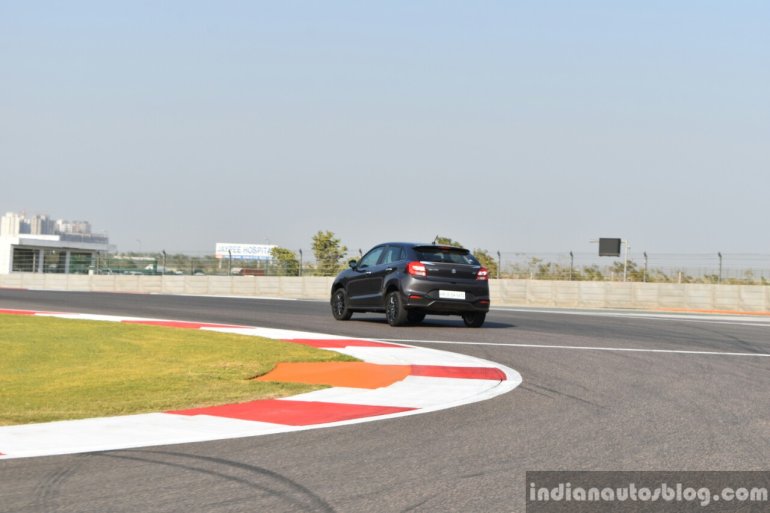 The RS body kit adds a dynamic touch to the Baleno's 'liquid metal' exterior styling. It is not as wild as a hot hatch should be, but not as sedate as the VW Polo GT TSI or Fiat Abarth Punto. Few of the details I am fond of are the silver highlights underlining the bumpers and side skirts, larger rear spoiler, gloss grey mesh grille and the bold rear bumper design with a pair of faux intakes.
It is surprising that designers hid the single exhaust pipe, instead of making it visible with a chrome-finished tip, although it is something we would not mind. We are also okay (sort of) with the 170 mm ground clearance, given that Indian road conditions can sometimes be unforgiving. However, it is disappointing to see the same set of alloy wheels from Baleno Alpha being offered in Baleno RS, albeit painted in gloss black. A sportier alloy design finished in the same colour could've matched better with the overall visual upgrades Maruti have made.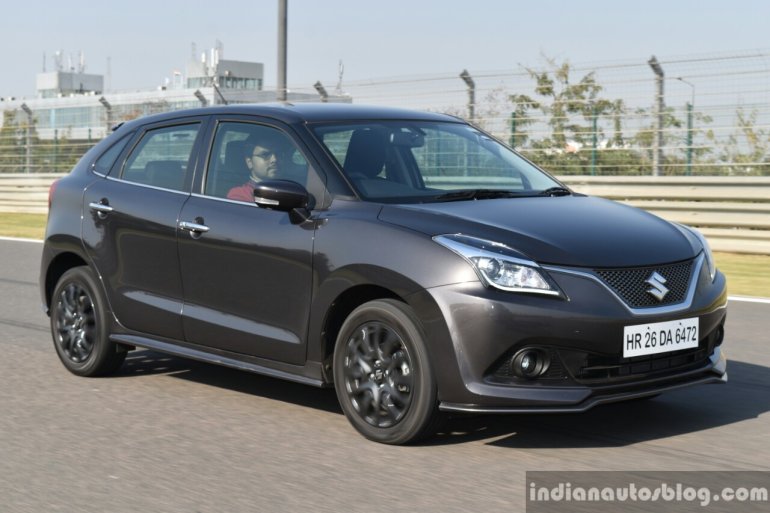 The interior looks largely identical to the Baleno Alpha, which is not a good thing, considering the price difference between the two petrol variants. Yes, the seats are comfy, the dashboard looks clean and unique, it has a good amount of occupant space, and the build quality is fairly decent.
However, being marketed as a hotter Baleno, one would normally expect more; to feel that you are sitting in a Baleno RS rather than a regular Baleno Alpha. Other than the floor carpets, there's not even one RS badge in the cabin. If BMW M were tasked to create the Baleno RS, there would be at least 30 RS badges inside. Even elements like color-coordinated trim, faux carbon fibre panels or bright contrast seat stitching could've added that dynamic touch the interior needs.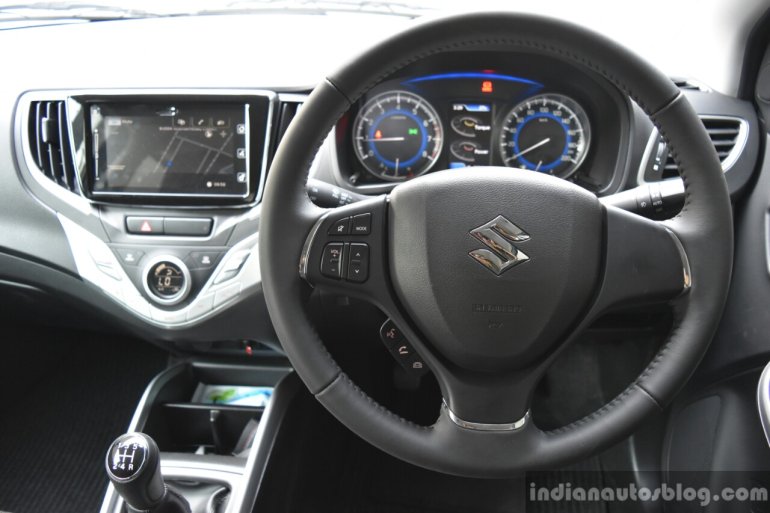 As for the equipment inside, it is as feature-packed as the Baleno Alpha. The highlights are a 7-inch SmartPlay AVN system with Apple CarPlay, auto climate control, auto dimming IRVM, power folding ORVMs, a 4.2-inch colour MID, keyless entry with start/stop button, rear parking camera and sensors, tilt and telescopic steering adjustment, dual airbags and ABS.
So what are you paying INR 1.4 Lakhs extra for? It is for Maruti's first-ever turbo petrol lump underneath the hood - a 1.0L 'Boosterjet' three-cylinder engine that outputs 75 kW at 5,500 rpm and 150 Nm of torque between 1,700 rpm - 4,500 rpm. Instead of widening the appeal by offering an automatic gearbox, Maruti has only made a slick 5-speed manual gearbox as the sole transmission option. Good!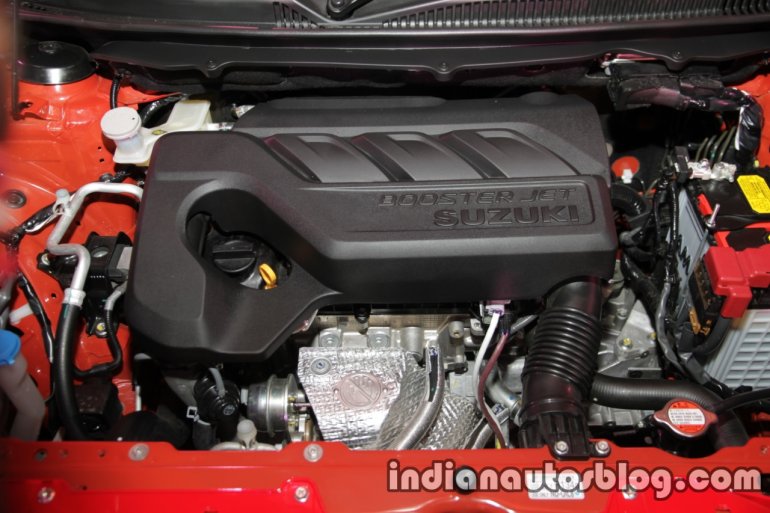 As the drive was limited to the Buddh International Circuit, the Boosterjet engine was pretty much put to strenuous work throughout the day. Moreover, it continued to deliver just as well as I had expected. It may be a tiny engine, but thanks to the turbocharger and other improvements Maruti have made, the 1.0L Boosterjet has plenty of vigour.
Peak torque is available right from a lowly 1,700 rpm, and the car rides on that torque till about 5,000 rpm, so straight line acceleration is brisk from standstill. It is a free-revving engine that quickly responds to throttle inputs, although I wished the top-end be a little bit over 5,500 rpm. I kept banging on the rev-limiter expecting to ride the wave of torque without needing to upshift in between corners.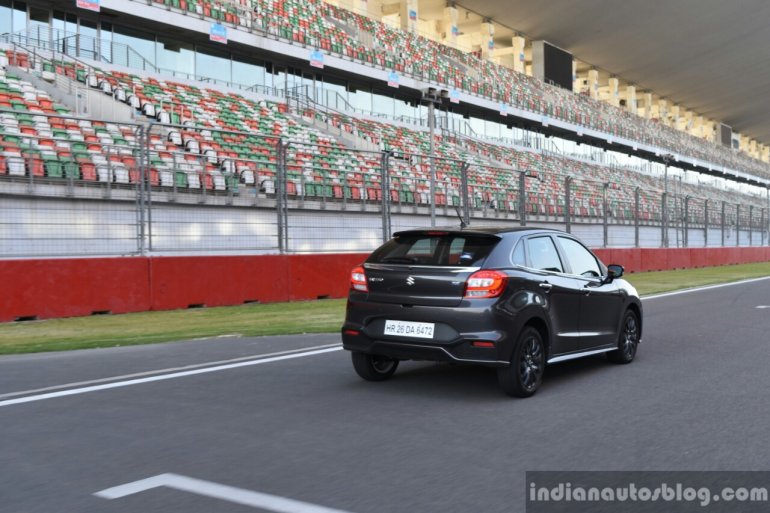 On the back straight, the Baleno RS effortlessly touched 170 km/h, before the tight right turn came close. The gearbox could've been slightly smoother and more direct to shift between gears, but it's only bothersome when you're on a racetrack.
There was no point checking the fuel efficiency after spending a day on a racetrack. However, the Baleno RS has got a small engine and light kerb weight, so I wondered whether it was fuel efficient even after all that abuse. The colour MID revealed an average fuel efficiency of 7.9 km/L, which is not at all bad, considering that I had been shifting gears between 3,500 and 6,000 rpm for six laps straight. Maruti claims that the Baleno RS can average 21.1 km/L, so they have not completely lost focus on fuel efficiency.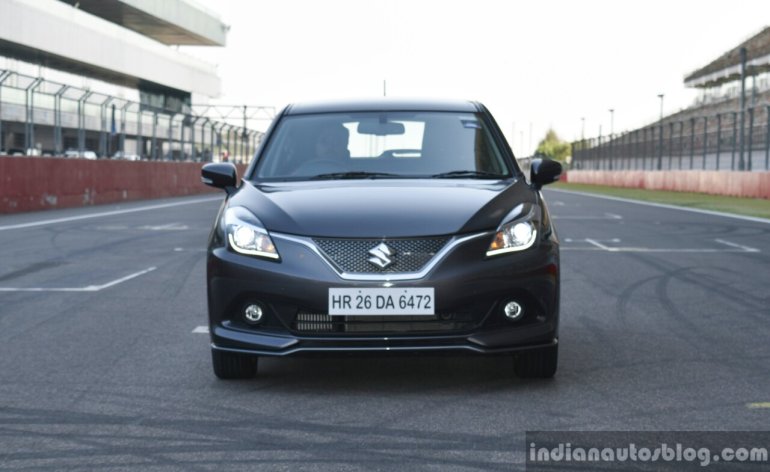 As for the Baleno RS' ride quality and handling, it has been made slightly stiffer than the regular Baleno, which was expected. The firmer set-up and 95 kg weight increase has worked wonders at triple-digit speeds, as the Baleno RS feels more planted than the regular petrol variant.
However, around tight-benders and 'S' curves, the Baleno RS exhibits enough body roll to raise doubts about its orientation. Even the choice of fitting the same Apollo Alnac 4G tires from the regular Baleno is a bit odd, as it was screaming for grip at nearly every corner.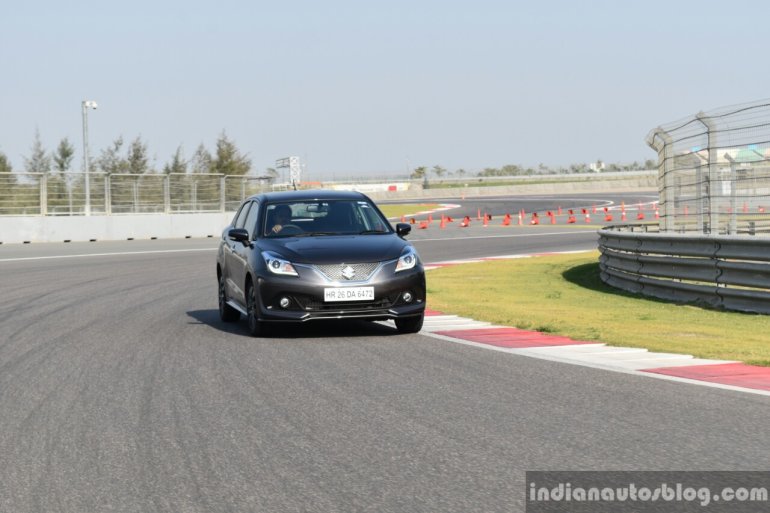 Steering feedback is not as communicative as the Fiat Abarth Punto, but weighs up nicely at high speeds and gives you a faint idea of the wheel position around a corner.
First Impression:
What Maruti has done is take a model that is sold as a regular variant in other countries, add a sportier body kit, make slight performance-oriented refinements and slap the RS badge. At least for the Baleno RS, we appreciate that Maruti did not just stop at installing a sporty body kit; they have actually carried out mechanical changes to make it drive like a car brandishing an RS badge. It is nice to see India's largest manufacturer think about us petrolheads.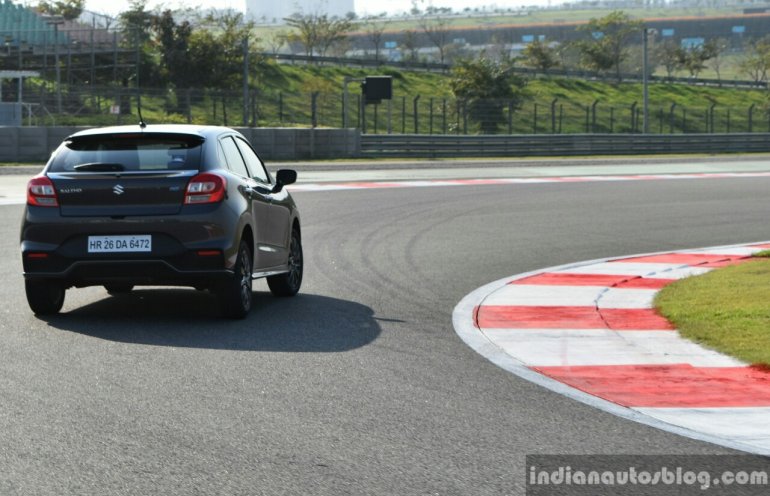 However, I cannot help shake the feeling that the Baleno RS is confused about what it is. Is it an entry-level hot hatch? Is it still a family hatchback with a go-faster engine? In my opinion, it is the latter. At least on the track, the Baleno RS was not as thrilling as a hot hatch should be, so I am curious to find out how it is like on public roads.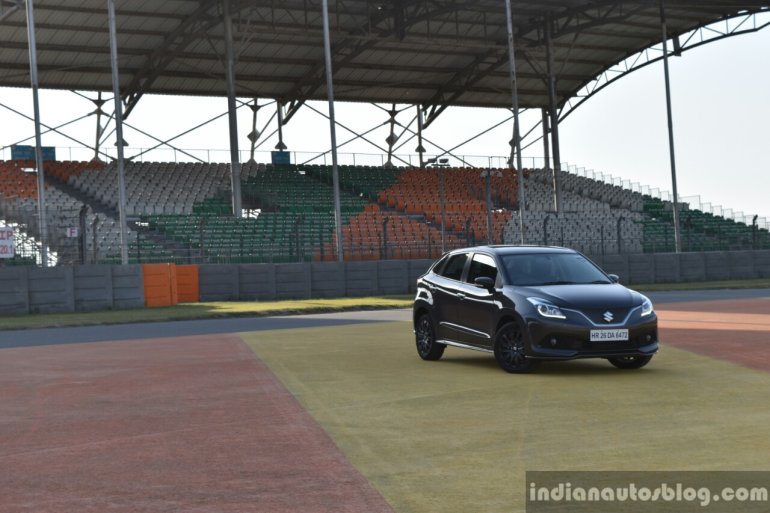 From my brief time behind the wheel, the Baleno RS is certainly the best among the three variants on sale today in India, but it is not the hot hatch that Maruti is trying to market it as.