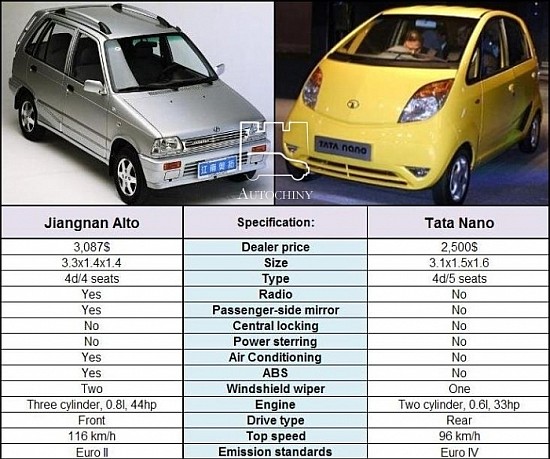 Ever since the Nano was unveiled back in 2008 & got the 'cheapest car in the world' price tag, China has lost sleep. It isn't only China but many other international auto makers who are watching the Nano closely. There is the Renault-Nissan Bajaj small car, GM along with SAIC is trying to make a low cost hatch & there is the Chinese company Geely which also announced that they will make the world's cheapest car.
Now there is yet another company, again from China - Zotye which has made it official that they will make a car that will cost less than some variants of the Tata Nano. Zotye is the same company that in partnership with Premier Motors sells the Rio SUV here in India. Zotye Holding Group said that they will make a sedan on the second generation Alto platform, which they purchased in 2007 from Suzuki, to save costs that will rival the Nano. They're looking to position the Alto sedan at 1.35 lakh rupees ($2,900 US Dollars)
The JiangNan Alto is essentially the Maruti Suzuki 800 ! (Another Indian connection eh?).
So basically the company will make a sedan out of that platform! Engine options are expected to be in the range of 0.8 liters to 1.1 liters with a power output 37 & 44 BHP.
But do you think this car will be reliable enough to actually 'drive'? Sure Chinese can make cheap products but can they make a reliable one? The Nano was built from scratch & the Nano Superdrive proved its robustness. Will the Chinese be able to beat that? Lets wait & watch.
Image Source - Autochiny
News Source - Gagsoo