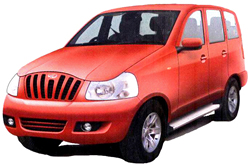 The much anticipated Utility Vehicle from Mahindra, the XYLO now has its own microsite- http://mahindraxylo.co.in/
The website talks about the work that has gone into making the XYLO. 160 Engineers in total were involved in developing this MPV which they are going to market as a "Streched sedan" indicating it's sedan roots.
The XYLO will fight for the top spot against the Toyota Innova, Chevrolet Tavera and the upcoming Tata Indicruz.
The website also informs that the vehicle has undergone a rigorous test schedule, clocking a million miles in a span of 700 days in all imaginable terrains including places like Germany and U.K. If Mahindra's claim is anything to go buy, we can expect the reliability levels of the Toyota Innova in this product.
The teaser shots give little away. Indicators mounted on the rear view mirrors and the the dials are lit up in blue in an inverted U-shaped landscape.
Check indianautosblog.com everyday. We will keep a close eye on the microsite as well as for leaked images or videos.