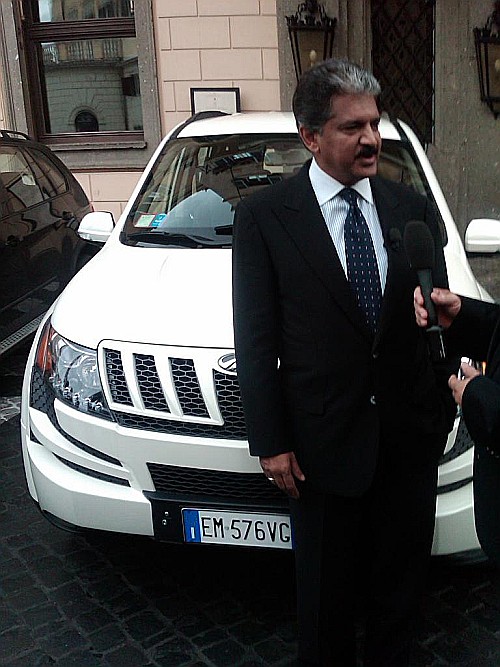 Right from day one, the Mahindra XUV500 was touted to be a global SUV and the Maharashtra-based UV specialist was overwhelmed by the response the XUV500 received in the domestic market.
With oceans of orders, Mahindra was occupied in getting the production capacity issues sorted out. Now, having done that, the company is taking their 'World SUV' to where it should go - the World.
After South Africa and Australia, the XUV's latest stop is Italy.
Mr. Anand Mahindra, Chairman of M&M, was present in Rome this week to introduce the XUV500 to the media ahead of its European launch which is expected to take place in Spain.
The European XUV500 will be powered by the same 2.2 litre mHawk engine producing 140 bhp via a 6-speed manual gearbox. A high power version of this diesel motor is on the cards for future. An automatic transmission and a petrol engine for the European markets are under development as well.
The interior of the LHD version stays the same. The equipment and safety features also remain unchanged, as the car was 'Europe ready' since the beginning.
Speaking on the occasion, a visibly excited Mr. Mahindra told the European media: "Europe has always been an important market for the Mahindra Group. I am convinced that it will continue to have an important role in the growth of our brand and our strategy of global growth."
M&M already sells its tractors and commercial UV's in European countries like Italy, Spain, France, Greece, Serbia, Croatia, Hungary, Bulgaria, Macedonia and Slovakia.
[Source: Megamodo.com; Image via Twitter.com]