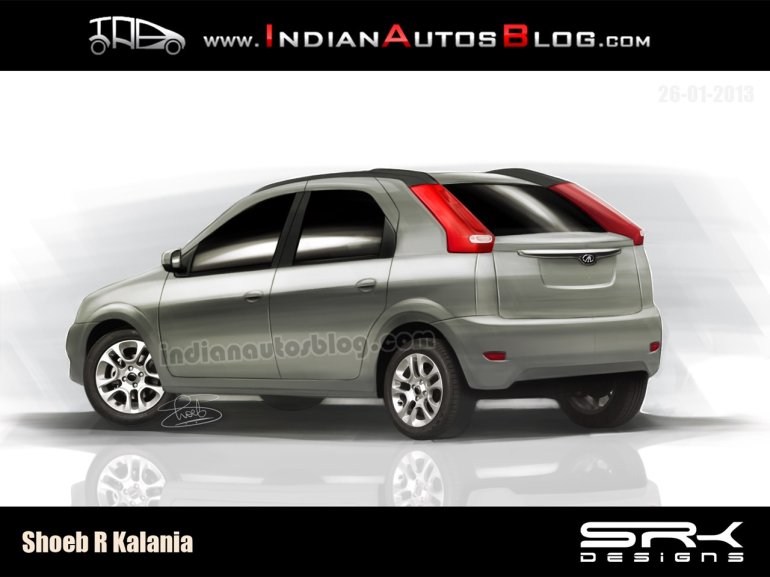 A hatchback giving rise to an instant sedan is something which is prevalent in Indian auto industry. There are number of examples for the trend but Mahindra has done the opposite by taking a sedan and chopping off its boot entirely to make an instant hatchback.
The objective, as we know is to get the product's length under the crucial sub four metre mark which would translate into huge savings in terms of excise duty. Maruti retained the distinctness of the third box while condensing their Swift Dzire whereas with the sub four metre Verito, Mahindra rather did a hatchback than a compact sedan.
Dr. Pawan Goenka, President of Mahindra's automotive sector has told Indian Autos Blog that the sub four metre car will carry the Verito nameplate with a suffix. He also told us that the Verito compact will be ready by the end of March.
Here is the rendering of the car by our in-house specialist Shoeb, based on the spyshots. As we said, its more of an hatchback with a subtlest hint of its sedan roots. The tail lamp clusters which are located in the C-pillars are embossed and extend a little to the sides as well.
The roof has plastic rails that extend all the way to tail lamps in an attempt to get some visual bling. The rear door's window silhouette has a plastic insert to avoid an eyesore.
The car will employ the 1.5 litre K9k diesel engine as its sedan sibling and a petrol option is highly unlikely. With the sub four metre Verito, Mahindra is aiming to lock horns with premium hatchbacks rather than the sub four meter sedans like the Swift Dzire and the upcoming Honda Brio Amaze.
If you are a premium hatchback buyer, will you consider Verito compact over Maruti Swift for that extra bit of rear legroom and luggage space?