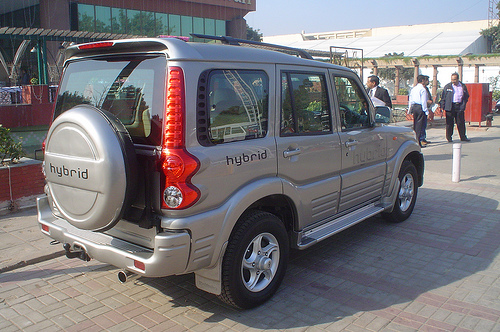 The Automobile world is stormed by the "GREEN REVOLUTION"(as the IAB calls it!) these days, and guess whose the new kid on the block? - Mahindra & Mahindra.
Having tasted success in the tractor sector of the U.S market, M&M is cashing in on the growing fad for Green vehicles. M&M is the SUV market leader in India and U.S is the world's largest pick-up truck market and a prominent market for SUVs. With over 8 years of continuous leadership in the SUV segment, M&M hopes to use the same formula for its sales in U.S starting 2009.
"We are planning to launch our fuel-efficient SUVs in the United States but we are not ready yet to share the exact date of launch," Mahindra Group Vice-Chairman Anand Mahindra said."We have made remarkable progress in meeting emission requirements (in the US). We will have targets about the fuel-efficiency in the US market with concepts like hybrids," says Anand Mahindra, managing director, M&M. The reason behind M&M opting out of the race to acquire Hummer from owners General Motors, according to Mahindra, was its image of fuel guzzler.
"M&M has been consciously working on fuel-efficiency and environmental safety aspects even before the company planned its foray into the US market. Americans are not against large vehicles but are increasingly averse to fuel guzzlers that are not eco-friendly. They want fuel efficiency so that they can be guilt-free of not polluting the environment", Mahindra said.
For India, the company is ready to launch its bio-diesel vehicles, diesel-electric hybrids and other green vehicles such as the Bolero micro-hybrid, but is waiting for the government to commercialise bio-fuels and provide support to green technology. Mahindra said that it is not true to say that diesel vehicles cause pollution, but it is the quality of fuel used that is critical.