Second monocoque product from Mahindra. 
Following its market launch last month, the Mahindra KUV100 has made its first motorshow appearance at Auto Expo 2016. Launched as a crossover, the Mahindra KUV100 is targeted at the Hyundai Grand i10 and Maruti Swift.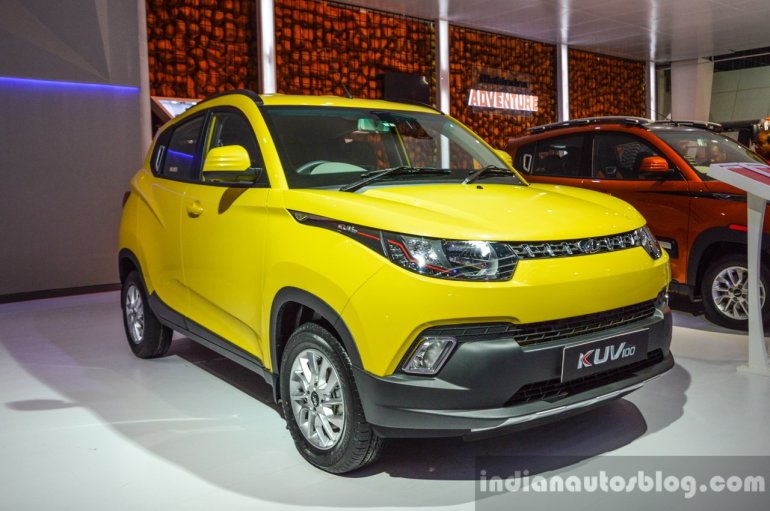 The Mahindra KUV100 is available with two mFalcon engines: a 1.2-litre G80 petrol unit that produces 82 bhp and 115 Nm of torque and a 1.2-litre D75 diesel unit that produces 77 bhp and 190 Nm of torque. Both engines are paired to a 5-speed manual transmission. ARAI has rated the fuel economy of the petrol and diesel models at 18.15 km/l and 25.32 km/l respectively.
The Mahindra KUV100 is available in two seating configurations: 5-seat and 6-seat - with the latter featuring a bench-type seat in the front to accommodate three adults. Noteworthy features of the Mahindra KUV100 include LED daytime running lights, follow-me lights, LED roof light, 6-speaker audio system with USB and Aux input and interior mood lighting.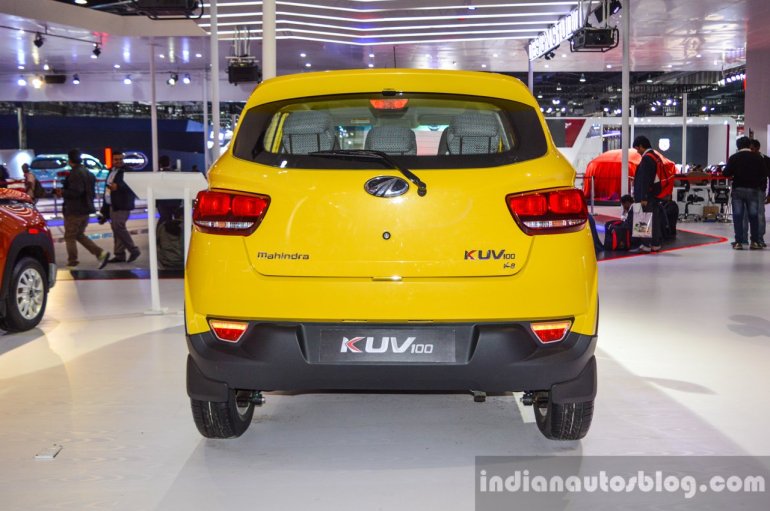 Like the Mahindra XUV500, the Mahindra KUV100 is also a major product for Mahindra for its global markets. The company will start exporting the new entry-level passenger car to first right-hand drive markets like Nepal, Sri Lanka, Bangladesh and South Africa this year.
Mahindra KUV100 Petrol price list (ex-showroom, Pune)
Mahindra KUV100 K2 - INR 4.42 lakhs
Mahindra KUV100 K2+ - INR 4.64 lakhs
Mahindra KUV100 K4 - INR 4.77 lakhs
Mahindra KUV100 K4+ - INR 4.99 lakhs
Mahindra KUV100 K6 - INR 5.36 lakhs
Mahindra KUV100 K6+ - INR 5.58 lakhs
Mahindra KUV100 K8 - INR 5.91 lakhs
Mahindra KUV100 Diesel price list (ex-showroom, Pune):
Mahindra KUV100 K2 - INR 5.22 lakhs
Mahindra KUV100 K2+ - INR 5.44 lakhs
Mahindra KUV100 K4 - INR 5.57 lakhs
Mahindra KUV100 K4+ - INR 5.79 lakhs
Mahindra KUV100 K6 - INR 6.21 lakhs
Mahindra KUV100 K6+ - INR 6.43 lakhs
Mahindra KUV100 K8 - INR 6.76 lakhs