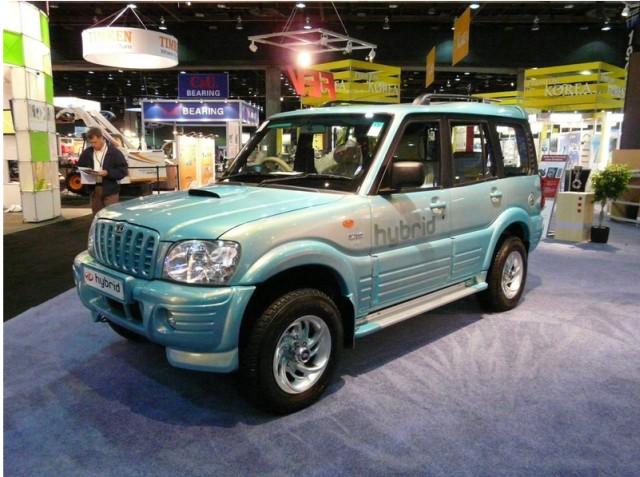 Mahindra&Mahindra is easily the most ambitious manufacturer in India. The automaker started with making tractors and other utility vehicles and then moved to making luxury SUVs. They bought Ssangyong in one of the biggest overseas deals made by an Indian auto company and then bought controlling stake in REVA.
In yet another ambitious move, M&M has just announced that it has started work on a hybrid vehicle that will be launched in 2015.
Do not confuse a Hybrid with an Electric car. An electric car is powered entirely by electricity and needs to be charged from a socket.
On the other hand, a hybrid uses a conventional combustion engine mated to an electric motors and both sources of energy are used to propel the car. The hybrid car does not declare freedom from a fuel station but uses it moderately.
The best example of a hybrid is a Toyota Prius. Honda Siel was the first manufacturer to introduce a Hybrid Civic in India. The Hybrid Civic did not do well in India and the company has to sell it for half the price to get rid of the stock. The Prius, on the other hand, also does not sell well in India due to its exorbitant price.
A team of 14 people along with a European consultant is working day and night on the hybrid car at the company's newly established research and development (R&D) centre in Oragadam in Chennai. M&M has earmarked Rs.300 crore for the project. If you recall, Mahindra showcased a hybrid prototype of the Scorpio at the Auto Expo in 2008. At the 2010 edition, Mahindra bought a working prototype of the Maxximo EV (a mini lorry) followed by an electric Verito (Renault Logan) at the 2012 show.
M&M already offers something called as MicroHybrid on its popular SUVs. But this is not technically a hybrid but just a fancy name given to a start-stop technology.
The timing of the project is certainly right as fuel prices skyrocket in India. There are estimates that the demand for hybrids will rise 50-fold in the coming years.
M&M is also working with the Indian Institute of Technology, Bombay, on hydrogen-powered vehicles.
[Source:  livemint.com; Image - AutoInfoz.com]