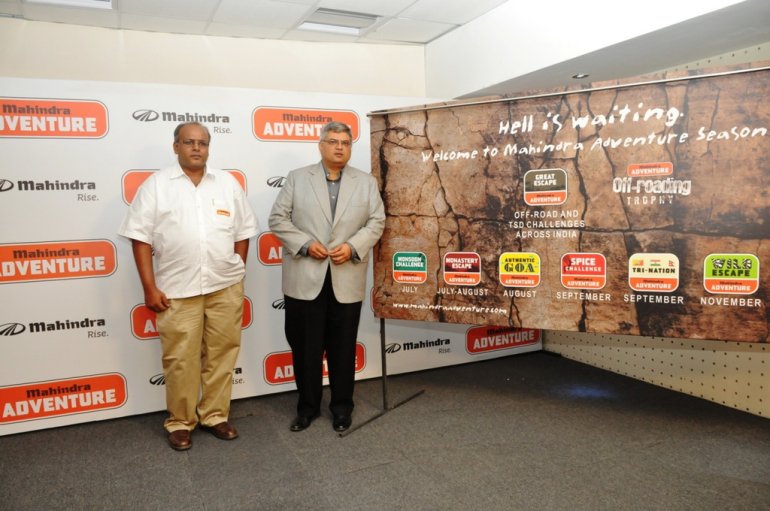 Yesterday at the Thar AC launch, Mahindra also announced plans for Season 2 of its epic off-roading series – the Mahindra Great Escape. The Great Escape is a series of off roading events that Mahindra conducts for its SUV customers so that they can enjoy their vehicles to the fullest. Its not everyday that you get to explore the hidden powers of your Scorpio, XUV500 or Bolero.
Now the Great Escape has been clubbed under an umbrella brand called 'Mahindra Adventure' which will also include Mahindra's motorsport division.
The Mahindra Adventure Season 2 will consists of three type of events:
Great Escape
Challenges
Multi day Escapes
The really existing ones are the multi-day escapes which are as follows:
Monsoon Challenge (South to West) – 19th – 22nd July
Monastery Escape Classic – 26th July – 5th August
Authentic Goa – 16th – 22nd August
Spice Challenge (South) – 7th - 9th September
Trination Escape (North to East) – 15th – 29th September
Wild Escape (Central) – 16th – 21st November
Royal Escape Classic (North) – 27th December – 1st January
The enthusiasm is literally palpable. Mahindra claims that more than half the events are sold out already.
In order to keep the off roading community entertained on the move, the company has also launched an adventure focus e-magazine called 'Get Lost'. Currently only available on iOS platform, the magazine has a wealth of information on Mahindra's off roading activities and other adventure related topics. An Android version will be available very soon.
If we had to pick one event for you, we would blindfoldedly sign up for the Monastery Escape which takes to Leh and Ladhak through drop-dead gorgeous scenery and unbelievably stunning landscapes.
Don't know what it feels like to be a part of the Great Escape? Head to our experience of the Saklespur Great Escape