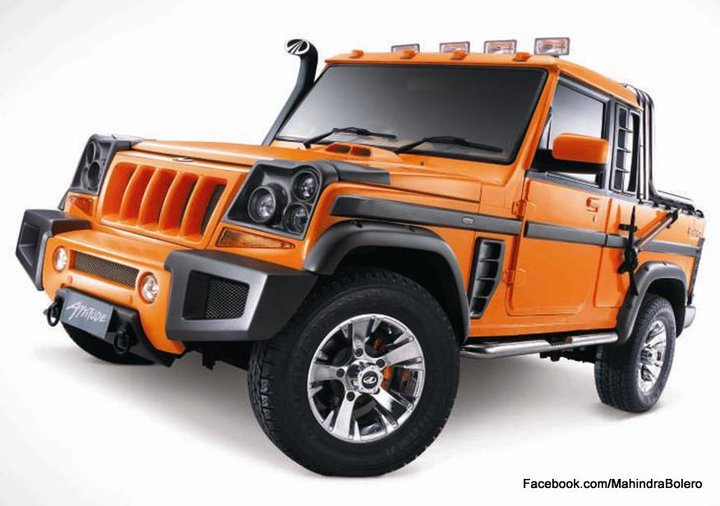 Mahindra's styling department is not best in the world. The cars (be it the old, now extinct, Armada or Bolero or even Xylo) are more utilitarian rather than head turners. No doubt, they are good cars but they are just not good looking cars. And when their customization team steps in, that's when things get a bit over the top!
Shown at the Speed Autocar Performance Show 2009, the Bolero Attitude is one such result of car customization taken to the limits and then some more. It is like the person who was in charge just couldn't stop customizing it!
Mahindra Bolero Attitude Features
* Styled front grill
* Xenon projector lamps
* Body mounted Pick axe & spade
* Bumper mounted towing rings
* Roof marker lamps
* Twin exhausts
* Motorized Sunroof assembly
* Bonnet scoop
* Snorkel
* Jerry cans on tail gate, rear towing hook
* Leather upholstery in black with orange stitch
* IPod docking station – Harman Kardon
* MP3 player with Bluetooth
We think that this is an attempt to revive the Bolero Stinger as it was rendered obsolete because of BS IV norms. But whereas the Stinger was customized in a subtle way (a bit), the Attitude is just way too 'Look-at-me'.
Mahindra Bolero Attitude Image Gallery