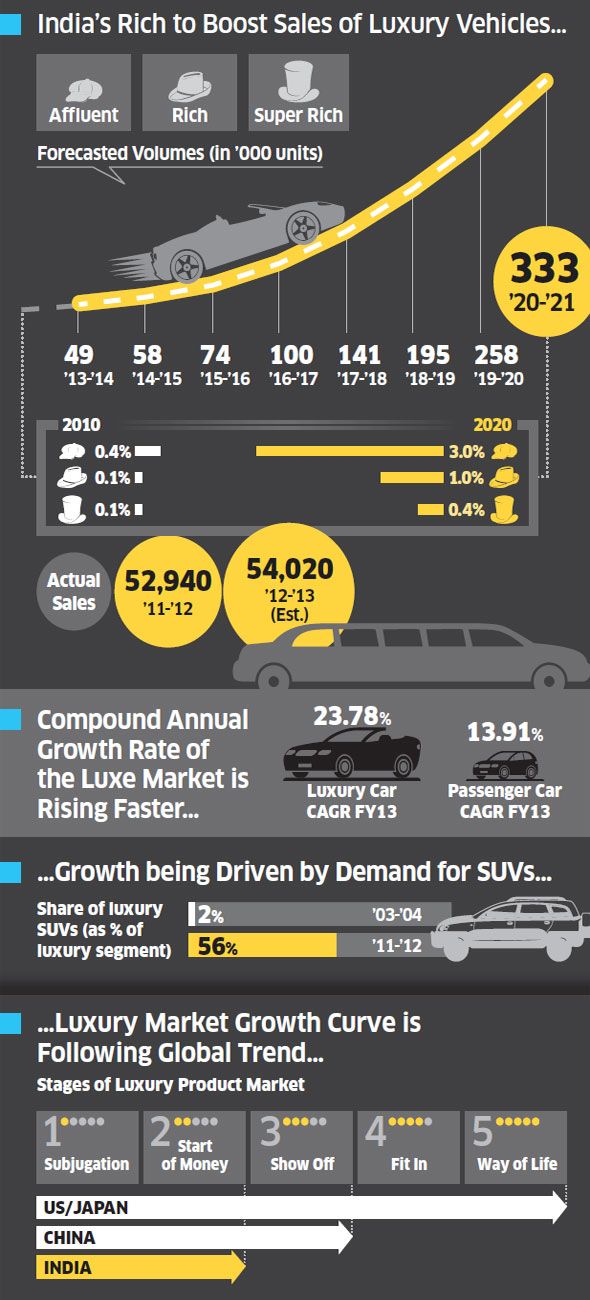 2012 was not the best year for the Indian auto market. Rising interest rates, erratic fuel policies, inflation and dull market sentiments are some of the reasons Indian automakers want to put the by-gone year behind them.
However, luxury automakers such as BMW, Audi and Mercedes posted a respectable growth even in these gloomy conditions.
In fact, luxury automakers are beefing their operations in the India to cope up with the future demand. According to a Frost & Sullivan study, the Indian luxury market is expected to touch 300,000 units a year in sales by the end of this decade.  The current luxury market stands at a limited to 52,000 units.
The study also states the growth rate of the luxury market will outperform the passenger car market. The passenger car market is expected grow at 13.91% whereas the luxury car market will outgrow to 23.78%. The vast majority of the growth will be driven by SUVs.
Super luxury automakers such as Porsche, Rolls Royce, Aston Martin, Lamborghini are also expanding their presence in India by inaugurating new dealerships and introducing the full range of cars. Another independent study conducted by CLSA Asia-Pacific Markets states that millionaires in India are projected to double to 403,000 by 2015. These young executives are ready to splurge their hard earned money on luxury cars.
Luxury automakers such as Mercedes, BMW and Audi are shifting away from CBU operations to CKD assemblies to keep their products affordable. CKD operations are levied 10% import duty, whereas completely assembled units are charged 75%  customs. Audi and Mercedes Benz in 2013 will assemble their whole luxury SUV range in their local plants.
This year, you will see a huge number of products from the German trio right from premium sport cars to luxury hatchbacks entering India to begin the next stage of growth for their parent brands.
[Source: economictimes.indiatimes.com]