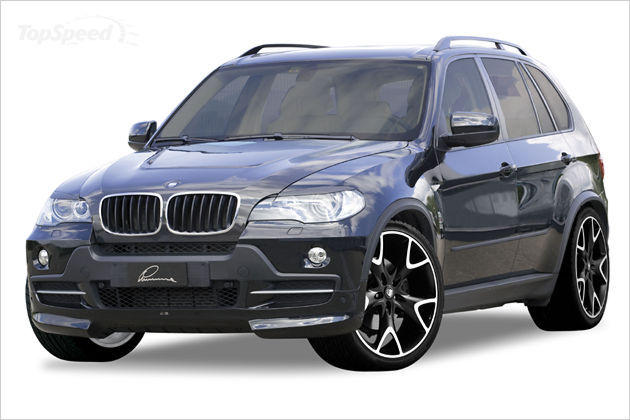 Lumma design, reowed tuner of German brands Mercedes, BMW and Porsche has unveiled a special tuning kit for the BMW X5 called the CLR X530S. Available exclusively for the X5 wearing no dynamic package, the kit includes a new front bumper, a carbon-fiber hood, new side sills and a new rear bumper featuring exhaust cutters and an air diffuser. Also a new set of 20 inch alloy wheels was added, same model used at the Lumma CLR X530. As an option, the tuner offers carbon-fiber mirror coverings as well as 22 inch alloy wheels. Price of the kit: $13,370.
More info and press release after the jump
PRESS RELEASE
Wider and faster:CLR X530 from LUMMA DESIGN
based on the new BMW X5• CLR X530 body kit with widening elements for X5; light-weight hood

• Power enhancement from 21 kW/28 HP for X5 4.8i; compressor modification with 530 HP

• Engine kit parts in carbon-look with components laminated in red

• LUMMA complete wheel sets "Racing 1", "Racing 2" and "Racing 3" in 22-inch

• Lowering up to 40 mm; sports exhaust system

• Numerous interior accessories

Once again, LUMMA DESIGN takes on a real challenge - now with the new X5. The Swabian tunersprovide an individualized appearance implementing outer and inner enhancements for the exceptionalsuccessful Bavarian SAV. Additionally, under the X5's hood the 4.8 litre V8 has received a moderatepower enhancement. Voilà: the CLR X530 is born!Widening body kit CLR X530The lion's share of the new, individualized appearance has been created through the new LUMMAbody kit CLR X 530. It includes a front spoiler with fog lights and extravagant air intake ducts, a rearapron in diffuser-look, brawny muscular wheel arch extensions, new side sills, and logo "CLR X530". The body kit can be further enhanced with additional parts. For example, LUMMA offers a roof spoilerextension with simple adhesive application to the rear hatch upper edge. A particular eye-popper is thehigh quality, hand crafted LUMMA sport-looking light-weight hood (10.5 kg) of carbon-Kevlar compositematerial with the characteristic opening for warm air emission from the engine compartment. A set ofLUMMA sport designed outer mirror covers exchangeable to the original parts, perfect the aerodyna-mic appearance matching to the LUMMA body kit. The mirror covers are also available made of car-bon; racing sports material par excellence. The front CLR X530 headlights have been perfected byLUMMA with the aide of an "eye brows" set providing a "serious look". For a perfect match, LUMMAprovides the rear lights with a 4-part covers set also with adhesive application. The best looking effectfor darker finish vehicles is LUMMA dark toned rear lights (available for Export models only!). Throughthe LUMMA exterior kit "Titan matt", the X5 can receive its polished finish. It comprises of titan colou-red laminated door and window framework, a casing for the BMW typical double kidney grille, and roofextensions. A great idea for parking lots or other poorly lit areas is LUMMA entrance lighting. Comprised of fivefloor LED's each to left and right sides, it illuminates when unlocking or climbing into the vehicle, lightingthe way for occupants.

Power enhancement plus striking engine kit The 4.8-Litre V8 from BMW certainly doesn't belong to the weakest category and while one can neverhave enough power, LUMMA encourages just a wee bit more horsepower out. The increase power of 21 kW/ 28 HP obtains LUMMA with new programming of engine electronics including fine tuning.Following the available from LUMMA-only modifications, is an increase of top speed by about 10 to 15km/h as well as approximately 35 Nm increased torque for a superior locomotion. The really big bombbeing geared up from LUMMA for the Essen Motor Show 2007 is a compressor alternation whoseengine power can easily be derived from the name of the body kit X530! A super-X5!

Whether with power enhancement or not, the LUMMA attractive engine kit brings shine to every engi-ne compartment. It covers the engine in carbon with red laminated intake manifold and red laminatedair ducts. A further performance plus promises LUMMA's sport stainless steel exhaust system. The possibleextra power gained from this flap control equipped construction moves in the range from ca. 6-8 kW.Available added extras are the sporty end tailpipes for both series as well as LUMMA equipped vehi-cles. LUMMA offers the four-pieced set (size: 125x95 mm) in either in black or anodised silver for dieseland gasoline engine vehicles for application with LUMMA rear apron (see above; "body kit") 22-inch wheels and lower suspension setting For its complete wheel set, LUMMA provides customers choices of three 22-inch possibilities. Firstwheel set LUMMA "Racing 1" comprises of the latest 10x22-inch sport rims in multi-pieced look with sil-ver or black matt wheel spider and high polished stainless steel outer rim and logo "LUMMA Racing"on the hub cap. This wheel is soon available for all current SUVs such as VW Touareg, Audi Q7, Porsche Cayenne or the Mercedes ML. Second alternative is the wheel set "Racing 2" with singlepiece sport rims in Y-Design "LUMMA Edition" and titan matt finish. As third possibility LUMMA offersthe wheel set "Racing 3" with single pieced rims in multi-piece look and high polished stainless steelouter rim. LUMMA equips all three variations with high performance tires in dimensions 295/30-22 fromits technology partner Toyo or Yokohama. In combination with LUMMA lowering for vehicles with air suspension up to 40 mm, LUMMA´s wheelsappear eben bigger. Positive side effect: reduced center of gravity, improved vehicle handlingValue added interiorFor the CLR X530 interior, LUMMA offers a program of numerous added accessories.