Production launched with 6,500 pre-orders in Japan.
The first Lexus NX has rolled off the Miyata plant's assembly line in Japan and will land at U.S. dealerships this fall to be introduced as the 2015 model. The NX is Lexus's first compact crossover and the first model to be offered with a turbocharged engine. The NX 200t has a turbocharged 2.0-liter four-cylinder that produces 235 bhp and 349 Nm of torque.
The NX is fully equipped to meet the competition starting with automatic LED headlights and foglamps, powered heated/ventilated front seats, a Mark Levinson audio system, all-wheel drive and an optional sports suspension.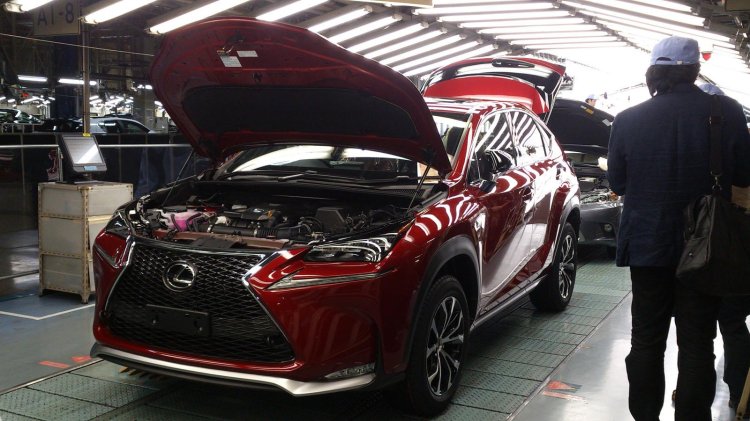 The Miyata plant, where the NX is produced, has won the Gold Plant Quality Award in the 2014 U.S. Initial Quality Study published by J.D. Power and Associates and the NX is expected to be "uncompromising" in quality.
In the Japanese market, the Lexus NX is offered with two engines options, a 2.0-liter turbo unit in the NX 200t and a hybrid powertrain in the NX 300h (Hybridized 2.5-liter Atkinson cycle engine producing 197 PS (145 kW). Lexus says it has already received 6,500 pre-orders for the NX in Japan, more than what the company expected.
"When the global financial crisis struck, we had to shut down one of our two lines. But now that we're producing the turbo engine for the NX, the line is open again and we're back to full operation," said Iwao Nihashi, president of Toyota Motor Kyushu (TMK).
You can get more info in the press release below.
Competitors: BMW X3, Audi Q5, Mercedes GLK, Acura RDX
Expected price: Below $40,000 (INR 24.47 lakhs)
By Vishal.C
Lexus NX Starts Production - Press Release
[Can't see the press release above? Head to Slideshare]