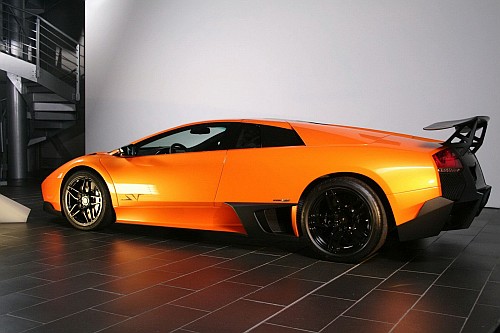 Exclusive Motors, the sole retailer of Lamborghini cars in India has launched the insanely powerful & the fastest Lambo to ever go into production – the Murcielago LP670-4 SV (Super Veloce) in the Indian market.
The car is powered by a 6.5 litre V12 engine that churns out 658 rampageous Italian horses. The SV comes equipped with a 6-speed sequential, automated manual transmission E-gear, which uses electro-hydraulics to shift gear extremely quickly. It does a 0-100 in a breathtaking 3.2 seconds & can touch speeds of 342 km/h.
The car gets a lot of carbon fiber kit which makes it 34 kg lighter than the standard Murcielago at 1565 kg. The car gets a new chassis, transmission & new interiors as well over the standard Murcielago. The car has a construction similar to that of a race car & the transmission tunnel on this one is also made up of carbon fiber. There is a choice of two aerodynamic setups featuring either a small or large rear spoiler.
On the inside too there is oodles of carbon fiber with the bucket seats made out of them & lined with alcantara micro fiber. The Murci has a double wishbone suspension & spring struts, two on each of the rear wheels & one each on the front wheels. It gets 245 section rubber in the front & 335 at the rear on the 18 inch alloy wheels. It also has carbon ceramic brakes & a race prepped ABS.
The car is priced at a cool 3.6 crore rupees ex-showroom Delhi. It is available in eight color options but the tastiest of the lot has to be the trademark Lambo i.e Yellow!