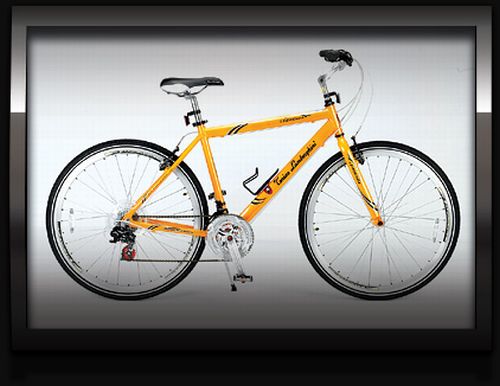 Yes, it's True! and very surprising too, that the very well known Italian Supercar manufacturer - Lamborghini with British grocers Tesco has started selling High-Performance Lamborghini's bicycles through its catalog service and online.
The two-wheeler, which wears the Lambo's legendary badge is designed and built by the company owned by Ferrucio Lamborghini's son, Tonino. 21-speed Hybrid that's meant for roads and trails, and is finished in stylish sunrise yellow.
Dreamt of becoming a Lambo owner,  here is your chance! And you don't need a lot of cash to realize this dream. So what if its only a Lambo bicycle?, still it wears a Lamborghini badge!
This exotic bicycle is yours at just £160, quite less than a 4-wheeled Lambo? Yeah?
Lamborghini Bicycles Official Site
IAB Comment: Is this a new path taken by Lamborghini to compensate for the 'Global Warming' caused by its cars?